Mere Christianity
4 journalers for this copy...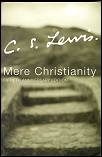 being read ...
---
This is one of the greatest book I've read about Christianity so far...
Great for any Christian who wants to go further or to really go inside Christianity and faith and try to understand what they are doing, and I think also great to any non-Christian who really wants to understand what Christianity is, beyond Churches and aparent non-sense of it.
Bookring :


Kiyann

Fleurus

Chlorine

Orchidee68

Nobodysperfect

Zazou

aset01

Cafardkiller (?)

---
Thank you Raphink...Will read it soon!
---
A very good book, which actually helped me understand things...The writer really tells what is most important in Christianity and that we tend to forget, in a wonderful philosophical reasoning.
Thank you, Raphink.
---
Envoyé aujourd'hui à Fleurus.

Le marque-page "Dieu est amour", je l'ai acheté à Lourdes spécialement pour ce livre...Bonne lecture!
---
Reçu hier de Kiyann.
Mille Merci pour le marque-page. Je peux le garder, dis ?
---
Received by mail two days ago. My mission: to read it and return it to Fleurus by the end of july.
---
The author of this book tries to give back to the reader the conclusions he has obtained about the profound meaning of being a christian. He says that being a christian is not just about believing in God and Christ, but means you must have a very profound understanding of the implications of this belief, and of the very deep implications that having faith should have on your behaviour. He insists that you must have a profound reflection on the meaning of faith, and is therefore contemptuous about people who have sat and thought for five minutes before they think they have grasped the whole picture. He calls their reasoning "a boy's reasoning".

Unfortunately, I am afraid he is guilty of exactly the same fault. There are many occasions throughout the book where what he puts forwards as being a very deep reasoning seems to me to be only the first idea one can have when one begins to think of the subject. For instance, at some point he spends a long time explaining the difference between bad and good, and explains that people living a 'bad' way of life cannot realise that they are being bad, because they are too entangled in their badness to know the difference. And he proceeds to explain that this is actually common sense, because lots of things are this way, like you don't realise you're drunk at the time when you are, but only afterwards. He seems to think that this is a very valid justification of what he has said about badness. But of course this is no justification, because there are also lots of things that you can be aware of only when you live through them, like being in love for instance. In these instances it really seemed to me that the author had thought about good and bad, thought "It actually is kind of being sober or drunk", and stopped thinking about the subject before he had a chance of realising his thoughts do not constitute a reasoning, but only a review of the thoughts he has had.

In the same manner, he seems to be thinking that the existence of a god can be "proved" by reasoning, with the existence of what he calls the "Laws of Nature", which are the basis of civilised life and respect of other people. He claims that these laws must have been imposed upon human beings by god, because everybody knows these laws and knows he has done a bad thing when he has trespassed them them. He seems absolutely not to think about the fact maybe people would want not to break those laws, not because of any god, but because if they did break them they would be excluded from society, which is a situation most people want to avoid at all costs. This might or might not be a sufficient reason to explain the global obidience of people to these laws, but since the author doesn't talk about this point at all, it seems to me that he has not thought about it at all.

One the most astounding thing he puts forwards as being the conclusion of a reasoning is about sex: he claims that sex should remain "hidden" (I don't remember the exact word he used), as it was til a century ago. His "reasoning" about that is that sex has been more open for a period of TWENTY years, and that if things should have become better they would have in such a LONG period. But I think this is nonsensical to consider a period of twenty years as a long time for anything that concerns society: it seems obvious to me that any timespan less than a generation cannot allow a real change in society.

I learned some interesting things about christianity in this book, but I do wish the author had thought more carefully about the subject before writing the book.

I sent the book back to Fleurus today.
---
Gourde que je suis ! J'ai oublié de mentionner
qu'il était de nouveau en ma possession depuis cet été.

Je ne promets pas de le lire très vite mais j'essayerai.
---