Man and Wife
2 journalers for this copy...

I borrowed this from a friend in NZ - a shameless case of bookshelf raiding!

(14/10) Finished, review to follow
---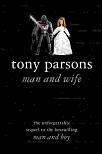 Man and Wife is the sequel to Man and Boy, with inexplicably another totally forgettable book One for my Baby in between. I gave M&B 8 '*' which I can't believe. I think maybe my tastes have moved on, and the genre, Tony Parson's contemporaries, offer more challenging and diverse fare. This is a bit soppy and lightweight. Harry Silver has divorced; he's lost custody of his son (not difficult as the law stands in the UK); his wife has remarried; he has a new wife (the American Cyd) and step-daughter. All very modern & cliched, the so-called 'blended' family. There's a very saccharine ending – you could care less – actually I wanted Harry to fall on his a**e for jeopardizing everything for the drug of new uncomplicated blind love. As his comedian friend Eamon says, "You've got this great life...and you screw it all up for a feeling. Not even a feeling – the memory of a feeling"
And finally, a great line, from Eamon again the recovering drug addict, attributed to someone else, 'Alcohol gave me wings to fly – and then it took away the sky'
---

Reserved for a mini-bookray

GinsterSwansea (on behalf of Kleptokitty!)
Flanners

---

Journal Entry
4
by
BookGroupMan
at on Saturday, December 03, 2005
Released 14 yrs ago (12/2/2005 UTC) at
WILD RELEASE NOTES:
RELEASE NOTES:

On its way to Wales to fulfill a 'RABCK' promise. Enjoy and pass on :)
---
Received via RABCK, thank you :) I have read the others by this author but not this particular book. To be read over christmas.
---