Travels with Charley in Search of America
Registered by
HikingReader
of
Las Vegas
,
Nevada
USA on 1/8/2004

This Book is Currently in the Wild!
4 journalers for this copy...
Read this one a long time ago, but it has to be one of the great travel narratives. Great writer travels across America--with dog- perfect! Enjoy!
---
Nifty! I've always wanted to read this book, and it arrived at my doorstep today as part of the travel bookbox. Thank you!
---
I keep a record of daily quotations as I read. I scan the book where I stop reading each day, looking for insight, imagery, humor, or clever phrasing. Rarely am I disappointed!

April 14, 2005:
"Thus it was in Salinas, in the great dark walnut bookcase with the glass doors, there were strange and wonderful things to be found. My parents never offered them, and the glass door obviously guarded them, and so I pilfered from that case. It was neither forbidden nor discouraged. I think today if we forbade our illiterate children to touch the wonderful things of our literature, perhaps they might steal them and find secret joy."
page 38

April 15, 2005
"The new American finds his challenge and his love in traffic-choked streets, skies nested in smog, choking with the acids of industry, the screech of rubber and houses leashed in against one another while the townlets wither a time and die."
page 72

April 16, 2005
"Everywhere frantic growth, a carcinomatous growth. Bulldozers rolled up the green forests and heaped the resulting trash for burning. The torn white lumber from concrete forms was piled beside gray walls. I wonder why progress looks so much like destruction."
page 181

April 17, 2005
"When a man makes his fortune in oil or government contracts, in chemicals or wholesale groceries, his first act is to buy a ranch, the largest he can afford, and to run some cattle. A candidate for public office who does not own a ranch is said to have little chance of election. The tradition of the land is deep fixed in the Texas psyche."
page 230
---
Steinbeck's facility with language and keenness of observation had me nodding with recognition and smiling with wonder on nearly every page. What amazes me most is that he wrote the book after traveling the country nearly forty five years ago. Much of what Steinbeck and his loyal dog Charley observed on their journey, literally from sea to shining sea, still holds true today. And what doesn't hold true was often prophesied in Steinbeck's musings.

This book was meant to travel, and will be continuing on its own journey, heading clear across the country to Steinbeck's home state of California. I appreciate the chance to read it.
---
Book has arrived. Thank you.
---
Still TBR but offering on http://bookrelay.com/relay.php?id=1326.

May 22: Reserved for SKingList.
---
Steinbeck may have been living on Long Island at the end of his life but he was still a Californian through and through. His travelogue, Travels with Charley of a trip around the continental United States in 1960, is written from a recognizable Californian perspective. Take for example his description of his custom built truck and camper shell which he dubs "Rocinante" and has the name painted in gothic lettering on the sides of the truck. Cars and trucks (especially) are still decorated with names in such a fashion.

While Steinbeck did cover most of the continental states in the course of his trip, he doesn't provide a blow-by-blow itinerary. Instead he lets the events of the trip inspire his writing. Sometimes he writes a faithful description of a place he has seen or a person he has met. Other time he writes an essay on a politics, or economics, or some other topic inspired by that point in the trip.

There are a couple chapters that focus on some medical problems that Charley the dog (a French poodle) suffered over the course of the trip. These chapters reminded me I & Claudius, a travelogue written by Clare de Vries about her trip across the United States with her cat. What is it about people traveling with their pets?
---
Journal Entry
8
by
caligula03
at on Monday, July 03, 2006
Released 12 yrs ago (8/2/2006 UTC) at
WILD RELEASE NOTES:
RELEASE NOTES:

Mailing to SKingList to complete a relay offer.
---
WOw, Charley travelled very quickly to get from CA to NY in only two days :)

My friends who know my love of travel are always surprised that I haven't read this one, so I'm about to remedy it. I think its size is perfect for me to take along with me this weekend.

Thanks, caligula03!
---
Not sure it made it with me that weekend, but in the interim this book has done a lot of travelling. It travelled with me to London last week and on to Prague. This weekend it ventured with me to Krakow and Auschwitz, where it was very well educated. I intended to finish it then but it got put aside in favor of "Night", which I'd never read. This book is still the perfect size and I imagine it will go with me tomorrow to Karlovy Vary (Karlsbad). More when I finish it.
---

Charley can finally show off his sightseeing from the pool at the
Hotel Thermal
in Karlovy Vary.
I like Steinbeck's insight into the people he's met and completely understand his omission of Chicago in this travelog.
Ideally Charley will go to Italy with me, I think he might prefer France but I will not be going there.
---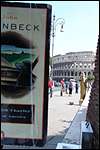 I finally finished the book :)
See the photo for where, Charley travelled far with me.
It took me so long for a small book. I enjoyed the story but it never grabbed me in a 'finish me now' sense. I liked a look at an America I would never know. I know very little about the events in New Orleans pertaining to segregation so it was an interesting read. I wonder why he doesn't get the flack that Mark Twain does for his choice of descriptive words?
I sympathized with his feelings of the journey ending before he returned home, I know the feeling of wanting to be done before you are. I think it's common to travellers.
Thanks all for sharing :)
---
Journal Entry
13
by
SKingList
at
Hotel Positano - via Palestro in Roma, Lazio Italy on Sunday, June 10, 2007
Released 12 yrs ago (6/10/2007 UTC) at Hotel Positano - via Palestro in Roma, Lazio Italy
WILD RELEASE NOTES:
RELEASE NOTES:

(Sorry to BCers in Roma if I chose the wrong 'Roma', there are far too many and I don't know the city that well)

I toyed with leaving this where I finished it (see photo in last entry) but I didn't have any stickies for an outside label and was worried about the elements. Instead I donated this to the bookshelf at Hotel Positano. It's on via Palestro off via Marghera near Termini if anyone wants to go hunting :)

I miss Rome!
---