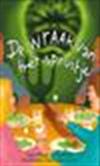 De wraak van het spruitje
2 journalers for this copy...
"Lezen kan gratis zijn, maar nooit voor niets"

Ik ben een zwervend boek!
*Vind uit waar ik was!
*Lees me!
*Stuur mij weer op reis!

Bezoek www.bookcrossing.com en meld (anoniem) dat je mij gevonden hebt. Je kunt lezen waar ik vandaan kom, en wat anderen van mij vonden, En je eigen commentaar toevoegen. Ik heb namelijk een eigen nummer (BCID) wat je nodig hebt om me te melden.

Stuur me daarna weer op reis: laat me ergens achter of geef me door aan een vriend!En heb je zelf nog geschikte zwerfboeken?

LEES ZE EN LAAT ZE LOS
---
Kinderboekenweekgeschenk 2009

Waarom zijn snoep en friet wel lekker en gezonde dingen meestal niet? Waarom is lekker lekker en vies vies? Wat is gezond? Is het niet mogelijk om iets gezonds te maken dat elk kind lekker vindt? Bijvoorbeeld een heerlijke snack met spruitjes?

In De wraak van het spruitje gaat Jan Paul Schutten op bezoek bij de grootste 'lekkerexperts' van Nederland. Welke geheimen hebben MARS, McDonalds, Coca Cola en de beste kok van Nederland? Welke spectaculaire ontdekkingen hebben de onderzoekers van de Universiteit van Wageningen gedaan op het gebied van eten en snacken?

Wat moet je er allemaal voor doen om een spruitjesgerecht te maken dat net zo lekker is als een kroket of chocoladereep? En lukt het uiteindelijk om zo'n gezonde spruitjes-snack te maken? Willen alle kinderen van Nederland na de kinderboekenweek aan het spruitje?
---
Journal Entry
3
by

DeKriekeput

at
Herpen, Noord-Brabant Netherlands on Sunday, March 16, 2014
Boek is te vinden in het mandje van OBCZ De Kriekeput

Aanvulling 04-07-2014: bij controle staat dit boek niet meer in het mandje. Veel leesplezier
---