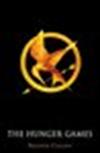 The Hunger Games
1 journaler for this copy...

"Winning will make you famous.
Losing means certain death.

In a dark vision of the near future, twelve boys and twelve girls are forced to appear in a live TV show called the Hunger Games. There is only one rule: kill or be killed.

When sixteen-year-old Katniss Everdeen steps forward to take her sister's place in the games, she sees it as a death sentence. But Katniss has been close to death before. For her, survival is second nature.

May the odds be ever in your favour."

Adorei. Fiquei completamente viciada na história e estou já a ler o segundo volume da trilogia.
Fiquei super apaixonada pela Katniss e pelo Peeta e por todas as outras personagens.
A autora conseguiu criar o mundo tão bem, tão perfeitamente completo e uma história tão bem encadeada e surreal.
Vi o filme primeiro, o que só me fez gostar ainda mais do livro, por tudo o que nos mostra que não é explicado no filme. Mas, mesmo assim, acho que o filme está muito fidedigno ao livro, pelo menos nas partes fulcrais da história (à excepção da Madge que nem aparece no filme e como a Katniss arranja o pin do mockingjay).
---