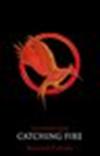 catching fire
1 journaler for this copy...

"Against all odds, Katniss Everdeen and Peeta Mellark are still alive. Katniss should be relieved, but now there are whispers of a rebellion against the Capitol - a rebellion that Katniss and Peeta may have helped create.

As the nation watches Katniss and Peeta, the stakes are higher than ever. One false move and the consequences will be unimaginable."

Li este livro em qualquer coisa como 4 dias. E ainda por cima totalmente em inglês!!! :o Só por isto já nem precisava de dizer mais nada, mas mesmo assim vou reforçar a ideia. ADOREI!!!
Geralmente os segundos livros de uma trilogia são sempre um pouquinho mais fraquinhos. Mas este não achei. Ao início a acção é um pouco mais parada, mostrando e caracterizando a vida deles após os jogos, mas mal chega a tour, pronto, estala tudo outra vez. Aquele aperto do suspense na barriga e o acelerar do coração. A Suzanne Collins é brilhante.
A sua capacidade de criação de situações, espaços e personagens é algo mesmo grandioso e valioso. As expectativas são totalmente e irrevogavelmente superadas neste livro.

E amo de paixão a Katniss. Uma pseudo-heroína fantástica, humana e com defeitos, tal como toda a gente. Lindo!!!
---