The Rosie Project: A Novel
Registered by

lmn60

of
Spotswood
,
Victoria
Australia on 1/2/2014
2 journalers for this copy...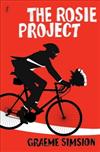 I approached this book with some trepidiation... I am NOT a fan of chick lit and was worried this may be an example of such. How wrong I was!
This book was not 'hard work' and ended up being one of the books I enjoyed most of all in 2013.
I really enjoyed all the main characters' quirks and foibles - Don being the most 'quirky' of all. But all of the characters were well drawn and had their own particular charms. Seeing the world through the eyes of a genetics professor with a uniquely 'Aspergers' way of viewing the world was a wonderful break from the 'heavier' literature I'd been reading. And this 'rom-com' was a hugely enjoyable experience.
As an added bonus.. it's set in my home town of Melbourne, Australia!
Hopefully another reader will enjoy it as much as I did!
Have uploaded a picture of the Australian cover with this entry....
"Amazon.com Review.....
An Amazon Best Book of the Month, October 2013: Full of heart and humor, Simsion's debut novel about a fussy, socially-challenged man's search for the perfect wife is smart, breezy, quirky, and fun. Sure, it's the precise equivalent of a well-crafted romantic comedy. (In fact, the book was clearly written with the big-screen in mind, and the film rights have already been sold). But you'd have to be a pretty cynical reader not to fall for Don Tillman, a handsome genetics professor who has crafted a pathologically micromanaged life for himself but can't seem to score a second date. After launching his Wife Project, which includes a hilarious questionnaire intended to weed out imperfect candidates--smokers, makeup wearers, vegans ("incredibly annoying")--Don meets Rosie, a stunning, maddeningly disorganized bartender/student who's looking for her biological father. The reader knows just where the story is headed: Rosie's so wrong for Don, she's perfect. That's not giving anything away. Half the fun of the book is watching pent-up, Asperger's-afflicted Don break free, thanks to Rosie, from his precisely controlled, annoyingly sensible, and largely humorless lifestyle. By the final third, you're cheering for Don to shatter all his rules. And you're casting the film."
---
Journal Entry
2
by

lmn60

at
Best of Swap, BookObsessed Swap -- Controlled Releases on Sunday, March 09, 2014
Released 5 yrs ago (3/11/2014 UTC) at Best of Swap, BookObsessed Swap -- Controlled Releases
CONTROLLED RELEASE NOTES:
Congratulations on 'winning' this one in the Best of 2013 Swap, zzz! I truly hope you enjoy this one!

See you in the Best of 2014 Swap!
---
In the day that whole tennis world speaks about amazing game Nick Kyrgios produced against Nadal at Wimbledon, Rosie arrived.
Thanks and hugs!
---
I told you during the swap if anyone else has offered this one I probably wouldn't considered taking it out of the game. And of course you were right when reassuring this is not how it looks :)
Indeed it's such and entertaining story. Don is utterly likeable character. I'm telling people around me how Aspies are fascinating (I'm aware how frivolous this is). I don't know, is this chick lit? I can't compare with anything since this is not what I usually read. Far from it but the fact is I enjoyed it quite a bit and that's what counts.

This has been taken in Best Of 2013 Book Swap and read during Best Of 2014 Book Swap :)
---