Proof of Heaven: A Neurosurgeon's Journey into the Afterlife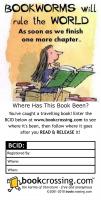 Registered by

booklady331

of
Cape Coral
,
Florida
USA on 12/27/2013
3 journalers for this copy...

Journal Entry
1
by

booklady331

from
Cape Coral
,
Florida
USA on Saturday, April 12, 2014
If you are new to BookCrossing and found this book and this site, Welcome!

You have in your hands a free gift. This book is yours to do with as you wish...read it, share it, keep it, pass it on!
I've registered this at BookCrossing.com so that I can keep up on where it goes, who reads it, and what they thought of it. If you like the BookCrossing concept, you might want to register yourself with a screen name, so that you can keep up on this book, and maybe release others also! It's all confidential (you're known only by your screen name and no one is ever given your e-mail address), fascinating, and fun!

Thank you for picking up this book. I'd love to see an entry letting me know it is safe with you. Do with it as you please... read it (or not!), give it to a friend, keep it, leave it in the wild - it's up to you! Enjoy! If you like you can mention me, booklady331, as the one who referred you.



---

Journal Entry
2
by

booklady331

at
Cape Coral, Florida USA on Sunday, September 17, 2017
Dr. Alexander comes from a medical background and speaks very clearly about his story of being comatose for 7 days. It is unique because it comes directly from a person who is well acquainted with current understanding of the brain and consciousness and he can see where we our understanding falls short.

Previous to his experience he was generally agnostic as he says "the older I got, however, the less likely supernatural beliefs seemed. Like an ocean wearing away a beach, over the years my scientific worldview gently but steadily undermined my ability to believe in something larger. Science seemed to be providing a steady onslaught of evidence that pushed our significance in the universe even closer to zero. Belief would have been nice. But science is not concerned with what would be nice. It's concerned with what is."

He becomes ill and falls into a coma for a week during which he learns that not only does God exist but that he is "so completely beyond any of our human attempts at capturing God in words or pictures while here on earth.

After his experience he examines what happened from a medical view point and still comes away completely sure that what he learned in seven days trumps 20 years of rigorous study.

Reserved for NF VBB
---

Journal Entry
3
by

booklady331

at
Cape Coral, Florida USA on Tuesday, October 17, 2017
Enjoy! RABCK to BOOKWORMINALLUS for Tick Tock Release Challenge 2017
---

Journal Entry
4
by

BOOKWORMINUSALL

at
Mesa, Arizona USA on Thursday, November 02, 2017
Looking forward to reading this book that arrived safely yesterday afternoon (1 November 2017), as my pick in my first ever Bookcrossing Virtual Bookbox. THANKS for sending it, and THANKS again for including me in your Round 7: US Non-Fiction VBB https://www.bookcrossing.com/forum/20/518393?page=3 , booklady331. ; )
---

Journal Entry
5
by

BOOKWORMINUSALL

at

Mesa, Arizona USA on Tuesday, April 10, 2018

While I do realize and respect the fact that there are those who do need to highlight and write in books as they read them, honestly, I have never been one to do so, and have always had a great deal of difficulty reading books in this condition...although I managed to work through this one with its "gentler" markings than some Library Books I have come across!!! ; ) THANK YOU AGAIN for sending this RABCK, with one of my favorite Bookcrossing Bookplates, booklady331...your generosity and kindness are GREATLY APPRECIATED!!! This book began with yellow highlighter over this noteable Albert Einstein quote referenced at the beginning of the Prologue...

"A man should look for what is,
and not for what he thinks it should be."

Being a Spiritual Being having a Human Experience here on Earth : )...I DO believe in Heaven...and the hereafter, and even more so in the presence of the Souls of deceased friends, loved ones, and even PETS, around me!!! There are always SOOOO many signs...they are impossible to ignore....not part of my imagination...and certainly not coincidences. ; ) While I'd been wanting to read this book, I've not had a Near Death Experience, nor read books from this genre before, so I didn't know what it would be like. While I didn't find it so, the beginning...along with some subsequent portions of the book...may be a bit difficult for some to follow, as being a neurosurgeon, the author uses a great deal of detailed technical medical terminology connected to the crisis he went through before he actually gets to his recounting of his actual near death experience. I think for him personally, his writing of this book was a cathartic journey of healing, and it seems as though he was blessed to have had many people by his side who could help him put the pieces together in order for him to share it with others. Even more importantly, it seems as though this non-believing scientist with many far reaching credentials, was chosen specifically for the experience he had, in order to help those who are seeking and/or are "on the fence" about the existence of Heaven, God, and the Soul, to stop, take a long pause, and deeply contemplate. This book and it's companion [Map of Heaven http://www.bookcrossing.com/journal/13259827] , will be traveling to whiskeyjane as a RABCK, as soon as I receive her address in New Mexico. ; )



HAPPY READING!!!



Sending this one along with its little "The Mustard Seed Collection" Dayspring Card [LOVE the ROSES, and the way it is designed!!!] booklady331 sent with the book that I used as a Bookmark that reads...

"A friend loves at all times....". ~ Proverbs 17:17 NIV
---

Journal Entry
6
by

BOOKWORMINUSALL

at

Albuquerque, New Mexico USA on Saturday, April 21, 2018

Haven't heard from whiskeyjane since she expressed interest in this book I offered her, but just found a PM from December in which we exchanged addresses, so I DO have it now and am sending this, and it's sequel [The Map of Heaven: How Science, Religion, and Ordinary People Are Proving the Afterlife by Eben Alexander https://www.bookcrossing.com/journal/13259827 ], off as a Surprise RABCK for Multiple Challenges (I'll list them here a little later) to celebrate BOOKCROSSING DAY 2018 today!!! : D



HAPPY READING!



5/24/2018 UPDATE...looks like I still need to add the Challenges here, too ; ):

Didn't want to do a new Journal Entry here, as I believe that would have goofed things up and had me "catching" this instead of whiskeyjane. Never a dull moment in this life, and really, what WOULD we DO with one : D...on top of everything else, after dealing with tainted lettuce illness, and now in the middle of an added round of doctors and imaging lab appointments for yet another possible broken foot and/or toe that I am hoping not to "enjoy" another full boot for our Arizona summer with...after hearing from whiskeyjane last week...I finally managed to get this Bookcrossing Day RABCK dropped off to the Post Office and sent out via Media Mail with the correct address yesterday. ; ) Don't have the Postal Receipt with the Tracking Number available at the moment, but with Memorial Day being Monday 5/28...I was told delivery is expected on Tuesday. ; )
---

Journal Entry
7
by
whiskeyjane
at
Albuquerque, New Mexico USA on Wednesday, May 30, 2018
Thank you bookworminusall! The book Proof of Heaven arrived safely this afternoon right on time. I can't wait to read this - I LOVE anything about The Afterlife and I am a believer in signs, having received many! Thank you for thinking of me and sending me this great book!!!
---

Journal Entry
8
by
whiskeyjane
at
Albuquerque, New Mexico USA on Monday, December 03, 2018
WELCOME TO BOOKCROSSING Congratulations! You found a traveling book! This book has been set free. It is yours to keep or share. Please take a moment to make a journal entry to let me know the book has found a new home

---

Journal Entry
9
by
whiskeyjane
at
Albuquerque, New Mexico USA on Monday, December 03, 2018
I finished reading this in November 2018. I liked it a lot Not sure it's proof but it was interesting and ITA our science is limited so not all can be explained, right - Plan to send to my friend
---

Journal Entry
10
by
whiskeyjane
at
Albuquerque, New Mexico USA on Monday, December 03, 2018
I put this like new book in the mail to my good friend in Shingle Springs CA - The tracking number sez it will be delivered on Monday December 10 2018
---

Journal Entry
11
by
whiskeyjane
at
Albuquerque, New Mexico USA on Wednesday, September 16, 2020
Just to update - my friend did let me know the book arrived safely but also said she "doesn't like books" LOL Who knew! I didnt even know how to respond to that comment...
---