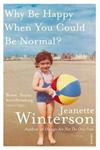 Why Be Happy When You Could Be Normal?
Registered by
zzz
of
Rakovica
,
City of Belgrade
Serbia on 12/8/2013

This Book is Currently in the Wild!
3 journalers for this copy...
Whoever read (or watched) "Oranges" is more/less familiar with Winterson's life story. Here you have an unabridged version. Bold, brave, brutal, sincere, angry, intelligent, amazing. And actually the life turned out to be more incredible, less believable than the fiction. And of course after this you'll appreciate more hew fiction or at least will look at it from different perspective.
This book is utterly amazing. It tells personal story (of course) but also story about north England working class, life in small communities, ...
Being in between (does that mean being nowhere? just a thought).
... and, in spite life (or precisely because of it) optimistic and happy (in one really weird, strange, twisted way) story.
I absolutely loved this book!
---
Journal Entry
2
by
zzz
at
bookobsessed.com, book swap -- Controlled Releases on Monday, April 07, 2014
Released 5 yrs ago (3/31/2014 UTC) at bookobsessed.com, book swap -- Controlled Releases
CONTROLLED RELEASE NOTES:

I hope you'll like this one at least as much as I did :) And when I say "like" I don't mean "haha I like it" but ... well, you'll see what I mean.
---

This arrived ages ago, but I appear to have never managed to make a journal entry. Sorry for the delay and thanks for sharing.
---

This is a memoir of a rough time with her family but that leads to a level of hope and resilience that is inspirational and satisfying to read. I knew much of the author's story from other books of hers, but it was compelling to hear her tell her own story in her own voice. I loved her description of wanting to be a big writer and her development as a feminist.

While Winterson ultimately leaves the fundamentalist Christian faith of her family, she doesn't look back on it with complete harshness or despair. Instead, she describes religion and religious community as infusing life with something larger than mundane daily existence and providing a forum for discussion of philosophy, ethics, and politics. Has religion moved away from these goals today?

I'm so glad to have had the chance to read this one.
---

I was moving books around my tbr pile and found this sitting mixed in but mot journaled. It made it here safely and has been here for a few months (since early fall of 2016 I believe)
---

I actually have not read Jeanette Winterson's book "Oranges" so was actually unfamiliar with the author's story. I found this an enthralling look into growing up in a state of being wanted but not wanted by your adopted family. This was not what I expected but I really loved it. Thanks for sharing the book zzz and msjoanna. One of the things I love about book crossing is how many books I have been introduced to that I might not have been otherwise.

I am going to add "Oranges" to my list of books to look for in the future.
---

Journal Entry
7
by

nimrodiel

at
Little free library #44604 - Custer and Linden Place in Evanston, Illinois USA on Wednesday, July 31, 2019
Released 2 mos ago (7/30/2019 UTC) at Little free library #44604 - Custer and Linden Place in Evanston, Illinois USA
WILD RELEASE NOTES:
Left in the little free library.
---