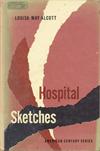 Hospital Sketches
Registered by

hyphen8

of
Honolulu
,
Hawaii
USA on 11/16/2013

This Book is Currently in the Wild!
3 journalers for this copy...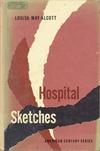 The adventures of Tribulation Periwinkle, volunteer Civil War nurse...based on the author's real-life experiences.
My favorite bit?
I am naturally irascible, and if I could have shaken this negative gentleman vigorously, the relief would have been immense. The prejudices of society forbidding this mode of redress, I merely glowered at him...
I can definitely identify with that. :p
---

---

Journal Entry
3
by
quietorchid
at
Saint Paul, Minnesota USA on Saturday, January 25, 2014
Came home in the Medicine chest IV. Looks interesting.
---

Journal Entry
4
by
quietorchid
at
Saint Paul, Minnesota USA on Sunday, January 26, 2014
#1. DON'T read the introduction, where you will find out that Alcott's womanly nature matured in her hospital experiences, so she could fufill her highest talents writing stories for girls. ARRRRGGGGH!

Great sketches. They clearly are based on letters to loved ones, trying to be brave and cheerful while working in an understaffed and unsupplied hospital in Washington DC. Alcott's wit and mischeviousness comes through, as does the undertone of pity and despair at what she was witness to. Nice to see her unfiltered.
---

Journal Entry
5
by
quietorchid
at
Saint Paul, Minnesota USA on Saturday, February 14, 2015
Put in the
Medicine Chest V Bookbox
.
Welcome to Bookcrossing, where Books roam freely! I hope you enjoy the book, and leave a journal entry so I can see where the book ended up. You can remain anonymous if you'd like, or join and follow the book's travels throughout the world. The site is free, secure, and non-spamming. Take a look around, and then go read!
P.S. If the book is too good to read and release, that's okay, you can keep it, just let me know that it's found a good home!
---

I've been eyeing this little book the moment I notice that it would be in the book box. I am glad that it has remained in the box for me. : ) I don't know why, maybe because it's by the author of The Little Women.
---

I showed hubby the book I was reading. "Do you know who's Louisa May Alcott?" Nope. "Heard of Little Women?" "Ah, that's the tv series about female women!" He saw my face. "No. I'm sure, that's the name of a tv show!"

Well, he is not wrong, though I seriously considered that I should revoked his BC account.

For me, Little Women was required reading at my school, so I couldn't imagine anyone not knowing it. Though of course hubby came from an all boys school.

Anyway, it was an interesting read. The language takes some getting used to, but it gives me such a vivid image of the author: funny, bold, witty and confident. Her narratives are so imaginative: "two invalid tables, ditto chairs, wandered here and there" "(the meals) consisted of beef, evidently put down for the men of '76;... butter, salt as if churned by Lot's wife; stewed blackberries, so much like preserved cockroaches, that only those devoid of imagination could partake thereof with relish".

Will likely set aside for the medicine chest bookbox unless another interesting opportunity comes along.
---

Journal Entry
8
by

Azuki

at
Conchas Little Free Library in Lisboa - Lumiar , Lisboa (cidade) Portugal on Friday, April 27, 2018
Released 3 yrs ago (4/29/2018 UTC) at Conchas Little Free Library in Lisboa - Lumiar , Lisboa (cidade) Portugal
WILD RELEASE NOTES:
Hi! How wonderful you've found one of my books! Thank you so much for checking out the journal. I would really appreciate if you can take a moment to let me know you have it now. Trust me, it'll totally make my day to hear from one of my "wild" books.

Bookcrossing is a wonderful online community of book lovers dedicated to sharing books with each other and the world at large. We are also curious to see how far and wide our books can travel. I would appreciate if you can make a journal entry on this book so we know where the book has been. You don't have to set up an account.

Feel free to keep this book, return it to where you found it, or pass it on to the next reader. If you sign up as a member, you will hear from the book as it travels and gets journaled. Feel free to explore the BookCrossing site, and visit our forum to meet other booklovers. Membership is confidential, free, and spam-free. Happy reading!
---