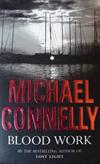 Blood Work
Registered by
LockShockBarrel
on 10/30/2013

This Book is Currently in the Wild!
1 journaler for this copy...
Blood Work... that's what Terry McCaleb used to call his job at the FBI. Eight weeks ago he was a dead man - but now someone else's heart is keeping him alive.
---
Journal Entry
2
by
LockShockBarrel
at
six d.o.g.s. (6-8 Avramiotou st) in Monastiraki - Μοναστηράκι, Attica Greece on Friday, November 01, 2013
Released 5 yrs ago (10/31/2013 UTC) at six d.o.g.s. (6-8 Avramiotou st) in Monastiraki - Μοναστηράκι, Attica Greece
WILD RELEASE NOTES:

Απελευθερώθηκε Πέμπτη 31 Οκτωβρίου, 7μμ στην απόλυτη Halloween είσοδο του six d.o.g.s.
Δεν ξέρουμε πως την φαντάζονται αυτοί οι μαγαζάτορες που λειτουργούν στην οδό Αβραμιώτου. Μέρα νύχτα βρομάει ο δρόμος, και δεν μπορούμε να αγνοήσουμε την γλίτσα, μία επίστρωση βρόμας που κανένα γκράφιτι ή εξλουσίφ πάρτυ με εισαγώμενους d.j. μπορούν να την απαλείψουν. Μόλις περνάμε τους κάδους με τα απορρίμματα στην αρχή του δρόμου, πράγματι είναι
Η κοιλάδα του φόβου
μέχρι να φτάσουμε στην άλλη πλευρά όπου βρίσκεται το Dos Agaves.
Δεν μοιάζει με φωτισμένη τερατο-κολοκύθα η είσοδος του μαγαζιού; Εάν τολμάτε, μπείτε να βρείτε το βιβλίο! Βρίσκεται στα σκαλοπάτια βαμμένα με αίμα.
Themed release for the second
Halloween Release Challenge
organized by the Greek Bookcrossing community, at Cafe Boheme (36 Omirou street), Thursday October 31st.
If you are new to BookCrossing and found this book and this site, Welcome!
You have in your hands a free gift. This book is yours to do with as you wish...read it, share it, keep it, pass it on!
I've registered this at BookCrossing.com so that I can keep up on where it goes, who reads it, and what they thought of it. I'd love to see an entry letting me know it is safe with you.
To get started, just enter the book's BCID number (you'll find it inside the book) at the BCID field (top left of this webpage) and press Go!
If you like the BookCrossing concept, you might want to register yourself with a screen name. (but you can remain anonymous also and still journal this book), so that you can follow this book as it travels, and maybe release other books. It's all confidential (you're known only by your screen name and no one is ever given your e-mail address), fascinating, and fun!
Thank you for picking up this book. Do with it as you please... read it, give it to a friend, keep it, release it in the wild - it's up to you.
Enjoy!
---