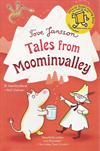 Tales from Moominvalley
Registered by

Tarya

of
Helsinki
,
Uusimaa / Nyland
Finland on 10/21/2013
6 journalers for this copy...

Journal Entry
1
by

Tarya

from
Helsinki
,
Uusimaa / Nyland
Finland on Monday, October 21, 2013
The Spring Tune

One calm and cloudless evening, toward the end of April, Snufkin found himself far enough to the north to see still-unmelted patches of snow on the northern slopes.

He had been walking all day through undisturbed landscapes, listening to the cries of the birds also on their way northward, home from the South.

Walking had been easy, because his knapsack was nearly empty and he had no worries on his mind. He felt happy about the wood and the weather, and himself. Tomorrow and yesterday were both a a distance, and just at present the sun was shining brightly red between the birches, and the air was cool and soft.

"It's the right evening for a tune," Snufkin thought.

A new tune, one part expectation, two parts spring sadness, and for the rest just the great delight of walking alone and liking it.

Published in Finland as Det osynliga barnet 1962
Translated by Thomas Warburton

Farrar Straus Giroux 2010
---

---
I came to today's Helsinki Bookcrossing meeting with absolutely no idea what was in store for me. I left with 19 books!! I am so excited to take this one home to Canada! I visited the Moomin Museum in Tampere a couple months ago and didn't realize how philosophical the little trolls are! I'm really excited to take this one home.

Thank you for the warm welcome Tarja!
---

Oops! Missed journalling this book, which I picked up from Jennifer at our extra meet-up on April 28th.

I am looking forward to reading this sweet little traveling book.
---

Taking to the February meet-up of Calgary BookCrossers held at Cravings Market Restaurant.

Hope this book finds a new reader!
---

Journal Entry
6
by
megami-no-ushi
at
Calgary, Alberta Canada on Saturday, April 08, 2017
Forgot to journal earlier.
---

Journal Entry
7
by
megami-no-ushi
at
Calgary, Alberta Canada on Saturday, February 09, 2019
Taken to the February meeting!
I saw Moomin all over Japan but this was my first book! So cute!!

To the finder:
Calgary has an active group of BookCrossers that meet to swap books and discuss book crossing every second Saturday of the month at 11am at Cravings Market on Fairmount Drive SE. We always love to meet new crossers, so please join us any time you like!
---
Brought this home from the February meetup at Cravings.
---
What fun stories and characters. So interesting reading books from other cultures. even though this really is a fantasy from another culture. Thanks for the fun read.
---
I am taking this to the December meetup at Cravings Restaurant.
---
picked up at Calgary's December meeting
---