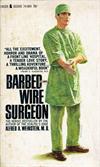 Barbed-Wire Surgeon
Registered by

hyphen8

of
Honolulu
,
Hawaii
USA on 10/2/2013
2 journalers for this copy...

1967 paperback with 75¢ cover price; original copyright 1947.
This book was hard going for me, but I knew it would be from the first page of the prologue, which had five instances of "Jap" and one of "Nip". My great-grandparents all came from Japan, but my grandparents were born in Hawaii as a US territory and my father could have been killed by the Japanese attackers of Pearl Harbor on
December 7, 1941
. Being an American is something I never really thought much about as a kid - it just was. I've been fortunate enough never to have actually been called one of those names, but the casual use of such terms (along with calling any random Filipino "Joe") took some getting used to. I understand Weinstein's hatred of his captors and, especially given how soon after the war he wrote this book, I wouldn't have expected him to use other terminology..but any new books coming out now couldn't do that except in direct quotes.
Nevertheless, it was a fascinating memoir of a series of truly dreadful experiences, and I'm glad that Weinstein survived to document his time in the POW camps. Interestingly, I see that the book is
scheduled to be republished
this month by a company that does some self-publishing. This may have something to do with the prices I've seen for this used paperback...
One of the strong impressions I took away from this book was that so many of the prisoners were men who knew how to do useful things and make them; I only know how to look things up. :s
This is one of the source books for
We Band of Angels
and I recognized some of the nurses' names.
---

---

Journal Entry
3
by
quietorchid
at
Saint Paul, Minnesota USA on Saturday, January 25, 2014
Came home in the Medicine Chest IV bookbox.
---