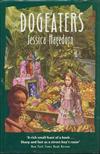 Dogeaters
Registered by

katopua

of
Flensburg
,
Schleswig-Holstein
Germany on 7/23/2013
2 journalers for this copy...

Journal Entry
1
by

katopua

from
Flensburg
,
Schleswig-Holstein
Germany on Tuesday, July 23, 2013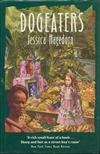 Blurb
Welcome to Manila in the heyday of the Philippines' infamous dictator. Stop by the chic Monte Vista Country Club, where members are required to leave firearms at the door. Check out the nightclubs where 'shower dancers' lather up to James Brown's 'Sex Machine'. Visit the neighbourhood movie theaters where teenage girls swoon over Rock Hudson and boys dream of becomeing starlet Lolita Luna's leading man. Look around the slums of Tondo ... the mansions of Forbes Park ... the torture chambers of Camp Meditation.
This is the world of DOGEATERS (a slang term for Filipinos), where HOllywood dreams and tropical nightmares violently collide. Where young junkie and the richest man in the Philippines get caught up in a spiral of events that culminate in a beauty contest, a film festival and an assassination. And where wildly disparate characters - movie stars, grandmothers, waiters, pimps and freedom fighters - indelibly touch the life of Rio, a feisty schoolgirl destined to grow up in America but to look back with longing to the land of her youth.
With its pungent language and exuberant storytelling, its deft balancing of the comic the tragic, the hip and the heartfelt, DOGEATERS markt the debut of a major new novelist.
Jessica Hagedorn
was born and grew up in the Philippines. Now living in the United States, she is well known as a performance artist, poet and playwright. She is the author of two collections of poems, prose and short fiction, DANGEROUS MUSIC and PET FOOD AND TROPICAL APPARITIONS. Her poetry is also included in EARLY RIPENING: AMERICAN WOMEN POETS NOW, edited by Marge Piercy and published by Pandora. DOGEATERS is her first novel.
Pandora 1990, hardbound with dust cover, bought second hand
---

Hat sich jetzt, wo die Post nun leider* wieder funktioniert, als vorrübergehende Leihgabe auf den Weg gemacht.

(Ich schreibe 'leider',weil ich gehofft hatte, dass der Streik weitergeht, bis die Ausgliederung und Bezahlung zu Dumpinglöhnen von DHL-Fahrern wieder rückgängig gemacht wird.)
:( :( :( :( :( :( :( :( :( :(
---

Journal Entry
3
by
book-a-billy
at
-- Irgendwo in Bayern, Bayern Germany on Saturday, July 11, 2015
Das Buch ist gut bei mir angekommen - vielen Dank! 3 Bücher sind noch vor ihm dran, aber die werden nicht allzulang dauern und dann lässt dieses Buch wieder von sich hören, bevor es zurück nach Hause reisen darf.
---

Journal Entry
4
by
book-a-billy
at
-- Irgendwo in Bayern, Bayern Germany on Sunday, September 20, 2015
Das Ist das zweite "phillipinische Buch", das ich lese. Mir persönlich hat Reiswein deutlich besser gefallen, auch wenn man in diesem Buch ebenfalls viel über das Leben auf den Philippinen lernt und sich direkt dorthin versetzt fühlt. Nur komme ich irgendwie mit dem vielen (käuflichen) Sex nicht klar - auch wenn der eben auch Teil der Realität ist.
Trotzdem aber vielen Dank für's Lesenlassen.
---

Journal Entry
5
by
book-a-billy
at
-- Per Post geschickt/ Persönlich weitergegeben --, Bayern Germany on Thursday, September 24, 2015
Released 6 yrs ago (9/25/2015 UTC) at -- Per Post geschickt/ Persönlich weitergegeben --, Bayern Germany
CONTROLLED RELEASE NOTES:
Das Buch darf nun endlich nach Hause zurück - ich hoffe, die kleine Dankeschönbeigabe (nicht als Kalender zu verwenden) gefällt der Eigentümerin.
---

Das Buch ist natürlich schon längst heimgekehrt und steht vis-a-vis im Regal ;)
---