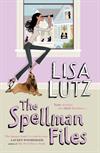 The Spellman Files
3 journalers for this copy...
Isabel Spellman, the uncompromising—okay, obstinate—twenty-eight year-old San Francisco private eye in Lisa Lutz's riotous debut novel, THE SPELLMAN FILES has her share of problems. And those problems all happen to be named Spellman. Her parents, Albert and Olivia, co-owners of Spellman Investigations, think nothing of placing their daughter under 24-hour surveillance simply to find out if she has a new boyfriend. David, her perfect older brother, who escaped the family business by becoming a lawyer, is hypercritical of just about everything Isabel says, wears, or does. Fourteen-year-old sister Rae lives on sugared snacks, considers recreation surveillance her favorite hobby, and believes that life is one endless opportunity for intra-familial blackmail. And good-natured Uncle Ray, a former cop and health food nut, now embraces gambling and drinking; and when he's not in battle with his niece Rae over the whereabouts of his favorite shirt, must be rescued from "lost weekends."


I was expecting a little more humor, but it's still a nice and easy read, with a bit of mystery :)
It gets you interested in the disappearance of a teenager boy, 12 years ago, while presenting you this amazingly dysfunctional family - the Spellman's.
---
This book is now travelling to the winner of the Chicklit and Chocolate International Sweepstake - June round!

Hope you like the book - and that the chocolate didn't melt on its way :)
---

Journal Entry
3
by
alexiapapa
at
Larissa / Λάρισα, Larisa Greece on Monday, July 22, 2013
Recieved today for Chicklit and Chocolate International Sweepstake along with a toblerone chocolate! Thank you! :)
---

Journal Entry
4
by
alexiapapa
at
Larissa / Λάρισα, Larisa Greece on Friday, February 07, 2014
I really enjoyed this book during a very busy week and I relaxed reading it. I loved the mystery and the funny moments in this multi-bonded family and I'm curious about the next books of this family!

Sent to collectorkerri for the wishlist tag game! Enjoy :)
---

Journal Entry
5
by

collectorkerri

at
Springfield, Illinois USA on Wednesday, February 19, 2014
Received today. Thanks, alexiapapa.
---