Under the Duvet : Shoes, Reviews, Having the Blues, Builders, Babies, Families and Other Calamities
Registered by
Elina
of
Espoo
,
Uusimaa / Nyland
Finland on 12/12/2003

This Book is Currently in the Wild!
5 journalers for this copy...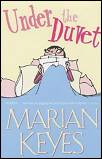 This book is a compilation of Marian Keyes' columns and other journalism from magazines and newspapers. There is some also unpublished material.
My tbr-pile is so huge at the moment that I really don't have time to read this now. So I'm thinking about making this a bookring, if there's interest. The cover art on my copy looks like the one on this journal entry.
---
---

Arrived in the post today, will get to it as soon as I can.
---
I enjoyed this book, found myself laughing out loud to some of the stories. Have passed on to pikapolonica today.
---

Arrived! I have another bookray book to finish before I tackle this one, so it might take a week or two before I pass it on.

Update (3rd March): what a funny book! :) It is so easy to recognise oneself in the stories that Marian Keyes tells about her life. The funny thing is that I found several parallels between what she says about herself and her family and the characters in her other books, especially with the Walsh family from Watermelon, Angels and Rachel's holiday.

Now on to mfa.
---
just got it in the mail - will be read real soon, i promise! thanks for sendning it, pikapolonica.
---

i've finished reading this a couple of days ago, but couldn't find the time to sit down and write this entry. and now it'll be harder, because i don't like to write about a book "in cold" - mixed emotions might have been cleared by then, and that weakens the debate.
however, this is such a simple book that i guess not much has moved inside my head after i finished it... i clearly remember feeling a bit estranged because i don't like make-up, girlie magazines or high heels. but i should still be able to enjoy a bit of non-fictional chick lit. which i did, in a very light way. but i could never get over the fact that keyes herself was not much different from the main character in the only novel of hers that i've read so far (rachel's holiday)- a bit nicer, in fact. and that might sound like a compliment but it is not, as far as a writer is concerned.
will be posted again tomorrow (sorry for the delay).
---
Journal Entry
8
by
mfa
at
per Post in send to a fellow bookcrosser, Bookring -- Controlled Releases on Monday, March 22, 2004
Release planned for
Tuesday, March 23, 2004
at
per Post
in send to a fellow bookcrosser, Bookring Controlled Releases.
sent to nikelise.
---
---
Well, I've finally finished reading it. It was really nice.
I went to the post office at the trainstation today, so I could send it on Sunday...it is on its way to Hathyia in Malaysia.
---
Journal Entry
11
by
nikelise
at
Post Office in Wien Bezirk 15 - Rudolfsheim-Fünfhaus, Wien Austria on Sunday, May 02, 2004
Released on
Sunday, May 02, 2004
at
Post Office
in 1150 Wien, Wien Austria.
Sent it from the post office of the Viennese Train Station West.
---