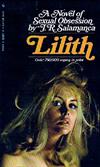 Lilith
Registered by

perryfran

of
Elk Grove
,
California
USA on 6/2/2013
2 journalers for this copy...

Journal Entry
1
by

perryfran

from
Elk Grove
,
California
USA on Sunday, June 02, 2013
I've had this copy of Lilith since the 60s but have never read it. Will be reading soon, I hope!

---

Book description:

This is the evil of Lilith, a wildly deranged young woman who creates for herself a strange paradise of sexual ecstacy, a fantasy world of poetry and passion which she inhabits in preference to the real world. Her world has its own language, its own philosophy, its own music and art, all exquisitely constructed and richly sensual in their design. And it has its own religion, a religion which demands an insidious and dreadful form of human sacrifice.Vincent Bruce is a sensitive, shy young man who works at the mental institution where Lilith has been placed. At first he is drawn to her out of professional interest in her case. But her charm, her aura of self-possession and lucidity set her apart from the other patients and exert a disturbing and provocative appeal. Gradually Vincent's interest changes to admiration, and this in turn becomes an intensely personal obsession with Lilith and her world as she lures him further and further away from the reality to which he had hoped to bring her back.

In Lilith, J. R. Salamanca succeeds in dramatizing the mysteries of the intelligent imagination, in all its terrifying scope and power, when it breaks through the ordinary barriers of conscience and reality.

First published in 1961, Lilith instantly became a classic of American literature, with over one million copies in print and a 1964 film adaptation of the same name starring Warren Beatty and Jean Seberg.
---

I have actually had this copy of
Lilith
since the late 60s when I was in high school. It had been languishing in a box of old books along with paperback copies of
Rosemary's Baby, Valley of the Dolls,
and various novels of Harold Robbins. For some reason I never read this one until now so it was among my very oldest TBRs! Lilith was written in 1961 and was very popular for its time. In fact, it was made into a well-received
movie in 1964 which starred Warren Beatty and Jean Seberg
.
I probably bought this book at the time because of the cover blurb which states: A Novel of Sexual Obsession. However, I was surprised to find that this was a very well-written and compelling story about a young man, Vincent, who returns from WWII and goes to work in a local insane asylum where he meets and falls in love with Lilith. Lilith is a very exotic young woman who spends her time playing a wooden flute, enjoying the colored light from her prisms, and writing and illustrating her books. She, like all in the asylum, is a schizophrenic and who in her case sees other beings who tell her what to do and who speak another language which in fact Lilith has invented. She is also very beautiful and Vincent falls for her immediately. They get involved in a sexual affair which Vincent of course keeps secret from his superiors and coworkers at the asylum. But when another inmate falls for Lilith, a resulting tragedy takes place which resulted from Vincent's jealousy.
Overall, I would recommend this one and would consider it to be a forgotten classic that should legitimately be read more.
---

Journal Entry
3
by

perryfran

at
elizardbreath's "Books People Have Actually Read" bookbox, A Bookbox -- Controlled Releases on Tuesday, February 19, 2019
Released 3 mos ago (2/19/2019 UTC) at elizardbreath's "Books People Have Actually Read" bookbox, A Bookbox -- Controlled Releases
CONTROLLED RELEASE NOTES:
Sending to BooksandMusic who selected this from the Books Read VBB. Enjoy!
---

Journal Entry
4
by

BooksandMusic

at
Seattle, Washington USA on Thursday, February 21, 2019
Received very quickly! Thanks
---