the coffin dancer
5 journalers for this copy...
The new Lincoln Rhyme bestseller.
---
---
---
---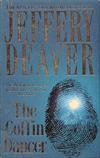 I've had this on my TBR pile for too long and I finally decided to pick it up. It's another great adventure with Lincoln Rhyme, it's amazing the amount of detail this author can come up with, his criminals are always extremely interesting. I loved the ending as I really wasn't expecting that twist, very well thought! And now I'm curious to know how Rhyme's relationship with Sachs develops, there are a couple of details about his condition that I had no idea about! ;o)
This one is now going to
Fantasma
as soon as she gets back from her vacation. Thanks for the book
babyimran
!
---
And here it is, another one to my increase my TBR pile.
Thanks babyimran and Virgulina.

** Already has another Deaver fan waiting, mady will be the next victim after I read it :op **
---
Finally read this one.
Deaver's definitely an excelent writer. Like babyimran said, it's amazing the 'Crime Scene Investigation' type of stuff that he knows and writes in his Lincoln Rhyme books without loosing us completely in the details. It's a page turner, we think the case is almost solved but are still halfway through the book, and a lot of twists await for us in the other half.
Let's see if
mady
is still interested in the book :)
---

Yes, I'm still interested in the book! :) Hopefully I'll be reading this one soon!
---

Another great book by Jeffery Deaver. I was expecting a twist in the plot as I thought it was becoming too obvious... but still I was very surprised!!
It''s already in the hands of another recent Deaver''s fan :)
---
This is my second Deaver's book and I loved it. It doesn't have as many twists as The Vanished Man but it's still a great book.
I can't wait to read another one of Rhyme and Sacks' cases.
---