The Eyre Affair
Registered by
camis
of
Norwich
,
Norfolk
United Kingdom on 12/9/2003

This Book is Currently in the Wild!
2 journalers for this copy...
Forget the rules of time and reality - just enjoy!
---
Sent by post to BookGroupMan
---

Thanks Julie, i'm looking forward to this. Will read on the flight to Oz - so will be much travelled before it gets back to you
---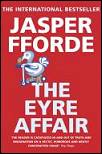 This is quite good fun, although you need to have read Bronte to understand the alternate (real??) ending to Jane Eyre and to fully appreciate the story. Fforde has discovered a rich seam here, opening up a portal between fictional and real worlds for mischief & tourism (litourism?) But, I think he's over-egged the whole thing a bit with the science-fantasy stuff, like time-travel & genetics, the literary references, and the modern setting with an alternative history. It all gets a bit cluttered and over-extended for me. Love the book-worms though.
Finally, a word about the kick-ass villain, Acheron Hades, who's a cross between Hannibal Lecter (the ruthlessness & psychotic tendencies, not a cannibal!) and a Bond megalomaniac bad-guy – "I've been expecting you Miss Next" The heroine literary detective Thursday Next just has a couple of lucky breaks – i'm sure we've not seen the last of him.
---

Released on
Monday, December 29, 2003
at
RABCK
in n/a, n/a Controlled Releases.
left with family in Oz - part way through our Xmas/New Year holiday down-under; in a desperate attempt to make room for more books in our luggage!
---