And the Mountains Echoed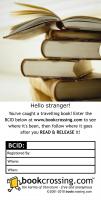 Registered by

booklady331

of
Cape Coral
,
Florida
USA on 3/14/2013

This Book is Currently in the Wild!
4 journalers for this copy...

Journal Entry
1
by

booklady331

from
Cape Coral
,
Florida
USA on Saturday, June 08, 2013
If you are new to BookCrossing and found this book and this site, Welcome!

You have in your hands a free gift. This book is yours to do with as you wish...read it, share it, keep it, pass it on!
I've registered this at BookCrossing.com so that I can keep up on where it goes, who reads it, and what they thought of it. If you like the BookCrossing concept, you might want to register yourself with a screen name, so that you can keep up on this book, and maybe release others also! It's all confidential (you're known only by your screen name and no one is ever given your e-mail address), fascinating, and fun!

Thank you for picking up this book. I'd love to see an entry letting me know it is safe with you. Do with it as you please... read it (or not!), give it to a friend, keep it, leave it in the wild - it's up to you! Enjoy! If you like you can mention me, booklady331, as the one who referred you.



---

Journal Entry
2
by

booklady331

at
Cape Coral, Florida USA on Thursday, July 04, 2013
Reserved for purple4 then spoiledrotten

Book Description
An unforgettable novel about finding a lost piece of yourself in someone else.

Khaled Hosseini, the #1 New York Times–bestselling author of The Kite Runner and A Thousand Splendid Suns, has written a new novel about how we love, how we take care of one another, and how the choices we make resonate through generations. In this tale revolving around not just parents and children but brothers and sisters, cousins and caretakers, Hosseini explores the many ways in which families nurture, wound, betray, honor, and sacrifice for one another; and how often we are surprised by the actions of those closest to us, at the times that matter most. Following its characters and the ramifications of their lives and choices and loves around the globe—from Kabul to Paris to San Francisco to the Greek island of Tinos—the story expands gradually outward, becoming more emotionally complex and powerful with each turning page.

My Thoughts:
This novel opens with a parable told by a father to his son, about another father who is forced to give up his young son to a monster. When the father later confronts the div and discovers that his son has been well taken care of and is leading a happy life, the div asks the father to make a choice: take his son home or leave him to his happy life. Realizing that to take his son would fill the void in his own heart but ruin his son's life, he leaves the son. Recognizing the father's selflessness, the div rewards him by erasing the memory of his son. Despite this "gift," the father is left his a hole in his soul that is never filled.

This opening parable is reflected in the rest of the interconnected stories in this novel where most of the characters are presented with a similar choice. The common thread appears to be is the effect of breaking a bond between two family members or close friends.
The author writes that every broken bond leaves a hole in the lives of the characters that they attempt to fill one way or the other. As one mother explains, she needs her daughter to "fill these holes inside me." Some succeed in filling these voids, while others are left with gaping holes that will never be filled.

I chose my rating on the positive side because of the writing talent of the author. On the negative I sometimes had difficulty with the backwards/forwards flashbacks of the lives and time frame of the characters, which often appeared difficult to connect. Hosseini would change stories and not give the reader a reference to hook into until well into the new story line. There were so many characters that it often was difficult to keep up with. I believe this in part was due to the fact that the names were foreign to me. The stories and lives of the characters were connected in some way, even though they often did not realize it. Also on the other negatives are two. First, I am tired of every book now having to use cursing and second, have to have a homosexual character. These took away from the writing and the reason I did not give the book a 9 or a 10.

---
Received book form Booklady331. The author was talented but a bit confusing at times with the story changes. I will be sending it off to another bookcrosser.
---
Sent to Spoiledrotten - hope you enjoy.
---
Journal Entry
5
by
spoiledrotten
at
Waldwick, New Jersey USA on Thursday, September 05, 2013
Received in the mail today. Thanks so much. My bookclub should be reading this soon.

11/12/14 Moving this off Mt. TBR for NancyNova in the Wishlist/tag Game.

12/26/14. I agree with booklady331's review of this book. There is not much to add as she summed it up very well. I will be mailing this off next week to NancyNova as part of the wishlist tag game!
---
Journal Entry
6
by
spoiledrotten
at
Lansdale, Pennsylvania USA on Sunday, December 28, 2014
Sending off to Nancynova as part of the wishlist tag game! Sorry it took so long.
---

Rec'd in the mail. Thanks!

---

Hosseini, instead of staying on a character story track, tries to integrate family trials, wounds, nurturing, etc into the book, and it really lost me. This one is now available
---

Journal Entry
9
by

NancyNova

at
Kulpsville Post Office OBCZ in Kulpsville, Pennsylvania USA on Friday, November 22, 2019
Released 1 mo ago (11/22/2019 UTC) at Kulpsville Post Office OBCZ in Kulpsville, Pennsylvania USA
WILD RELEASE NOTES:
for the THE release challenge

If you aren't familiar with Bookcrossing, take a few minutes to check out this very cool site. Bookcrossers LOVE books, and more than anything, they love to read books and then set them free for other people to find and enjoy. I would love it if you would leave a journal entry -- you can say where you found the book or how you liked it when you read it. Then, when you are ready, pass it along for someone else to enjoy!
Thanks and happy reading!
---