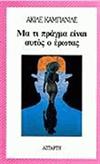 Μα τι πράγμα είναι αυτός ο έρωτας
1 journaler for this copy...
I didn't like the story and i didn't really found it funny. I hoped to have a better first impression of Campanile and I'm somehow disappointed. But I really liked the tricks he used as a narrator. I liked the way he speaks to the reader and tries to convience me that I should look away for example when a couple kissed. Other narrative tricks were also used throughout the book mostly in the second part of the book. I was more excited to see how he will 'play' with me then to read on the story.
---