King Leary
Registered by
Tarna

of
Tampere
,
Pirkanmaa / Birkaland
Finland on 2/13/2013
3 journalers for this copy...
Journal Entry
1
by
Tarna

from
Tampere
,
Pirkanmaa / Birkaland
Finland on Wednesday, February 13, 2013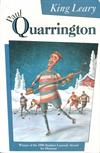 First published 1987, reissued in paperback 1994. Doubleday Canada, Toronto, Ontario 1994. Paperback, 232 pages.
Cover illustration by Russ Willms. Cover design by Tanya Craan.
2008 Canada Reads winner
Winner of the 1988 Stephen Leacock Award for Humour
Shortlisted for the 1988 Trillium Award
The blurb:
"Paul Quarrington has turned hockey into a metaphor for magic."
MACLEAN'S
"A fresh and zany voice."
THE GLOBE AND MAIL
"An extraordinary writer with a rare gift."
TIMOTHY FINDLEY
Percival Leary was once the King of the Ice, one of hockey's greatest heroes. In the South Grouse Nursing Home, where he shares a room with Edmund "Blue" Hermann, the antagonistic and alcoholic newspaper reporter who once chronicled his career, Leary looks back on his tumultuous life and times: his days at the boys' reformatory when he burned down a house; the four mad monks who first taught him how to play hockey; and the time he executed the perfect "St. Louis Whirlygig" to score the winning goal in the 1919 Stanley Cup finals.
Now all but forgotten, Leary is only a legend in his own mind until a high-powered advertising agency decides to feature him in a series of ginger ale commercials. With his male nurse, his son, and the irrepressible Blue, Leary sets off for Toronto on one last madcap adventure as he revisits scenes of his glorious life as the King of the Ice.
PAUL QUARRINGTON is the author of
Home Game, The Life of Hope, Whale Music
(now also a major Canadian film with screenplay by Paul Quarrington) and
Logan in Overtime
. His latest novel is
Civilization
. He lives in Toronto.
Paul Quarrington
at Wikipedia
Paul Quarrington
Homepage
---
t's hard to say anything about this book without spoiling it. I'll try, anyway.
Boy, the book is great! It's funny, it's witty, it's hockey history, it's a sports novel beyond dreams. It's almost as good as
Elmo
by Juhani Peltonen. (For those who may not now, Elmo is the greatest and the most versatile sportsman ever and
Elmo
is the funniest and greatest Finnish sports novel ever written.) Elmo did not have such a king-size ego like King Leary had, but he beat, among others, even the best hockey teams all by himself.
King Leary
is categorized as humour and the story is really funny. I even laughed aloud in a bus crowded with travellers when I finally realized why Poppa Rivers called Percy
loof-weeda
. In spite of all the funny parts the story is also extremely sad. Tears and laughter, only the best of writers can bring them together.
The book actually tells a lot about Canadian hockey history but you don't have know hockey to enjoy the storyline. It also tells about friendships, about getting old and being old, it shows that you're never too old to learn something important, it tells a lot about real life. It has some magnificent characters like the four monks. I just wish I had got to know Manny, the Wizard of Oz, a little better. With the monks, he was my favourite character, even if he was a ghost.
I really, really love this book. It is very much Canadian. In fact, I don't think
King Leary
could not be anything else. Hockey has changed a lot since the days of legendary King Leary but
King Leary
is not outdated. Winning 2008 Canada Reads is a proof of that.
King Leary
in Wikipedia
---
Released 5 yrs ago (9/25/2013 UTC) at Tampere, Pirkanmaa / Birkaland Finland
CONTROLLED RELEASE NOTES:
Another great book picked up by the very first participant in Palkintokaappi (Finnish Forum Trophy Cabinet VBB) this fall. A good choice, Annimanni. Enjoy!
---

Thanks Tarna, this looks fabulous! And the bookmark and postcard are very fitting, too :)
---

This was a humorous read with a sad undertone and a quirky cast of characters. I might have enjoyed it even better if I were into hockey, even just a tiny bit (which I'm not). Thanks for sharing, Tarna!
---

King Leary will now travel to Ireland to greet the winner of the Royal Flush Sweepstakes. Congratulations and enjoy!
---

Journal Entry
7
by
estelle1806

at
Clonsilla, Co. Dublin Ireland on Thursday, April 12, 2018
Received today, thank you Annimanni!
---