Note: Book successfully released. Release Another book to this location!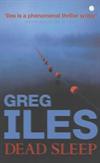 Dead Sleep
Registered by
lils74
of
Kathmandu
,
Bagmati (incl. Kathmandu Valley)
Nepal on 12/23/2012

This Book is Currently in the Wild!
1 journaler for this copy...
I bought this book several months ago--maybe longer, and only read the first two or so pages. If I'd read just a page farther, I wouldn't have put it down. Mixed feelings on this book, so prepare for spoilers, and read no farther if you haven't read the book yet.

SPOILERS!

The plot of this book is, I felt, genius, and absolutely fascinating. With various threads and links with Vietnam, it is clever and original.

However (and there is a however) there were a few things that make it likely I won't pick up a book by this author again. It probably would have been better if it wasn't written in the first person, but as it was, I soon realized that Jordan wasn't a character I really liked. There were too many annoying little things, like if she was so world travelled, how could she dismiss the differences between Marcel De Beque and John Kaiser as just "Europeans are jealous of us Americans." Really? Someone intelligent in the ways of the international world would over simplify like that?
Also the relationship between Jordan and John Kaiser was just unrealistic, and annoying in a book that was a thriller, not a romance novel. They known each other for a week or less. I've got nothing against people falling into bed under strain and pressure, but this whole love and talking about having children when we've known each other only days just made it unrealistic for me.
Other things made it unrealistic too, like the way they let her talk to experts, and having Wendy there--her saying what she did on the walkway and then dying was just too cliche.
And, Jordan, not every woman automatically wants a family, nor is she less of a woman if she doesn't have one. Also Jordan's comment about the rift between her and her sister, about "she didn't believe my side" (what side!) and "it wasn't a simple sexual betrayal" (could it ever be between sisters?) was really dumb on the part of the author, and made Jordan less sympathetic.
The other characters--particularly all the suspects--were really by far the most interesting and un-cliched characters in the book. I thought the fact that Jordan is so happy her father didn't have another family was juvenile and immature. That seemed to matter more to her than if he was alive or not, only that she was not replaced.
Lastly, I don't mind lack of realism in a cozy, but in a book that sets itself up realistically, Jordan was just way too arrogant and cocky to actually be right, and the ending with her sister made it seem like a fairy tale. And also, why all the bull about the man whose loyalty to a friend actually saved her sister's life despite his unusual/unethical views.
Well, after all that I suppose it makes it seem like I didn't like the book -- but the thing was I did, it was well written and the crime angle itself was intelligent and fascinating, which kept me reading. I wanted to know the end, I couldn't have abandoned it, but in the end, the main characters--Jordan Glass and John Kaiser--kind of ruined it for me. The book, really, would have been better off without them.
---
Journal Entry
2
by
lils74
at
Hotel Nirvana Garden in Kathmandu, Bagmati (incl. Kathmandu Valley) Nepal on Thursday, December 27, 2012
Released 7 yrs ago (12/27/2012 UTC) at Hotel Nirvana Garden in Kathmandu, Bagmati (incl. Kathmandu Valley) Nepal
WILD RELEASE NOTES:
Left this today on the Hotel Nirvana Garden's book shelf, when I went to see a visiting friend who always stays here on her visits to Nepal; I took one and left one.
It's being released for the D for December challenge, and if you're the finder, this book is a gift to you--you are welcome to keep it, give it away, or whatever you please. It would be great if you wrote a line--anonymously is fine--to let me know it's safe with you, and what you thought of it if you read it. Enjoy!
---