Poet and the Murderer
3 journalers for this copy...
---
Journal Entry
2
by
chefcrossing
at
New York City, New York USA on Thursday, December 20, 2012
Released as part of a bookbox.
---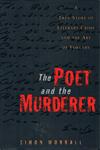 Received as part of the
Books about books
box; this one is on my wishlist, so I'm taking it out.
I hadn't realized from the book's description that it was about the same man involved in
The Mormon Murders
, but when I read the dust jacket, his name rang a bell right away. It's been a while since I read that book, but it will be interesting to see the story from another angle.
---

Due to the way that Emily Dickinson wrote & shared her work - most of which was not published during her lifetime - it's always *possible* that a new piece could turn up. Skilled forger Mark Hoffman took advantage of this and the truth about this piece of his work only came to light long after he'd been imprisoned for murder (see link in previous journal entry).
Here's an
interview
with the author where he discusses the two complicated people at the heart of his book.
I will count this as book #29/51 for NancyNova's
2015 MultiYear States Challenge
(Utah).
29/51 read so far for this challenge:
AK
|
CA
|
CO
|
FL
|
GA
|
HI
|
ID
|
IN
|
LA
|
MD
|
MA
|
MI
|
MN
|
NE
|
NV
|
NH
|
NJ
|
NM
|
NY
|
NC
|
OH
|
OR
|
PA
|
SC
|
TN
|
UT
|
VT
|
WA
|
WV
---

At a former job, I was involved with a purchase from Sotheby's: I saw the research that was done to help decide that we wanted to try for the item and the fund-raising that was done so we could bid. I worked up a chart showing the conversion to Swiss francs (plus commission) so we'd know exactly how high we were able to bid. My boss did the actual bidding, by phone, and it was fairly nerve-wracking, but we did manage to get what we were going for. So I could identify with many of Dan Lombardo's experiences leading up to his purchase of the "Dickinson" poem...and I found the revelations about some of the practices at the major auction houses quite disturbing.
I've yet to read the Book of Mormon (or see the musical, for that matter), but Mark Twain's description of it as "chloroform in print" doesn't seem like much of a recommendation.
I enjoyed the loving description of handwriting in Chapter 10, although it struck me as a bit sad, given that in the years since this book was published, hand writing anything is becoming more and more of a lost art; on the other hand it made me more aware of my own handwriting and I'm trying to take a little more time and write a little more neatly. ;)
Reserved for booklady331's
US Non-Fiction VBB
(round 1).
---

Claimed from the VBB and off to Oklahoma!
USPS tracking # 9549 0104 3303 6032 6852 98
ETA 2/22/16
~ ~ ~ ~ ~
I'm so glad you've found this book!
Won't you please make a journal entry to let the book's previous readers know that it's safely in your hands? How did you find it? What did you think of it? What are you going to do with it next?
It's now your book, for you to do with as you please: keep it, pass it to a friend, or maybe even leave it where someone else can find it!
If you've ever wondered where your books go after they leave your hands, join BookCrossing and you may find out: you'll be able to follow the further adventures of your books as new readers make journal entries - sometimes from surprisingly far-flung locations.
(Think of it like Where's George for books...or a little like geocaching - you can follow the book's journey every time someone makes a new entry. Some BookCrossers even leave books *in* geocaches!)
BookCrossing: making the whole world a library!
---
Journal Entry
7
by
Moody-Blue
at
Meers, Oklahoma USA on Tuesday, February 23, 2016
Thanks all -- looking forward to it.
---