Emergence
Registered by

hyphen8

of
Honolulu
,
Hawaii
USA on 11/25/2012
2 journalers for this copy...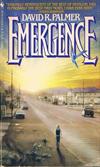 Cover blurbs from Spider Robinson:
"Strongly reminiscent of the best of Heinlein. This is probably the best first novel I have ever seen."
and
"You, lucky reader, are about to meet one of the most engaging characters in science fiction history - and the best new writer since John Varley - and if you fall hopelessly, shamelessly, head over heels in love, don't say I didn't warn you."
_ . . _ . . _ . . _ . . _ . . _ . . _ . . _ . . _
I'd be willing to read it based on those recommendations, but actually I read the novella before there was a full-length book, so there was no question that I'd buy this when it first came out. I'm still a big fan of Candy and her adventures, although having a macaw live next door for a few years made me think I might not like Terry as much.
I'm still looking for back issues of Analog from July through October 2008 so I can read the serialized version of "Tracking", which is supposed to be a sequel...
Here's
another copy
on my shelf.
---


Since the world hasn't ended, I'm sending this post-apocalyptic story as a surprise wishlist RABCK hitching a ride to California with a bookray.
I like it too much to take a chance on wild releasing it; it's much more fun to send it to someone who I *know* wants it. ;)
Enjoy!
I'm counting this as a release for Secretariat's
2012 Never Judge a Book By Its Cover
Challenge (week 51: automobiles) and my
D for December
challenge.
---

Journal Entry
3
by

judygreeneyes

at
San Diego, California USA on Wednesday, January 09, 2013
OMG!!! I can't believe I just opened this package and a copy of "Emergence" fell out!!! I read this book years ago, loved it, and like a good little bookcrosser, passed it along to another bookcrosser, assuming I would get another copy one day. But I had no idea how hard they are to find! Thanks so much, hyphen8, you really made my day! This book may not travel for a while (well, maybe on LOAN).

BTW, I adore Spider Robinson and have read each of his books, but I really detest when a sci-fi author is compared to Heinlein, because with few exceptions, I really can't stand Heinlein's writing. I also don't think this book sounds anything like Heinlein.
---