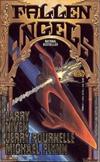 Fallen Angels
Registered by

hyphen8

of
Honolulu
,
Hawaii
USA on 11/25/2012
4 journalers for this copy...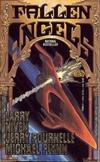 When the two Space Hab astronauts fall out of the sky into an anti-technology America, who else would come to the rescue but science fiction fandom?!
A fun read even though many of the references escaped me since I'm only a peripheral fan, not hard core.
Other copies on my BookCrossing shelf:
10517240
•
13724210
Bits to remember
What attracted Sherrine to science fiction: "Even in the most depressing dystopia, there's still the notion that the future is something we build. It doesn't just happen. You can't predict the future, but you can invent it. Build it. That is a hopeful idea, even when the building collapses."
~~~~~
"A lot of my mundane friends think that explaining a phenomenon 'ruins the magic'. I think the explanations just make it more magical than before. 'Danes live in a world where everything happens on the surface; where everything is just a symptom - like the rainbows. But a cloud of microscopic crystal prisms is as magical as an unexplained rainbow every day."
~~~

During the discussion on cyberbooks:
"Did you ever hear Philip K. Dick's definition of a dullard?" ... "Someone who looks a thing up in the encyclopedia, turns directly to the entry, reads it, and then closes the book."
and
"A well-read, educated public is more difficult to lead around by the nose ring."
~~~~~
Niven's Law: No cause is so noble that it won't attract fuggheads.
~~~~~
Sometimes what was important was not what was true, but what you believed was true.

Like cobbling together a spaceship and flying into space.

Believing wouldn't make it happen, but not believing would make it not happen.
Everything starts as somebody's daydream.
---

The Angels are on the move again, this time in chefcrossing's
Rescue-themed bookbox
. When two "spacemen" crash land in a mostly anti-technology America, it's up to the clandestine science fiction fandom community to save them!
~ ~ ~ ~ ~
This book was set free to find a new reader; I'm so glad you've found it!
This is now your book and you may do whatever you like with it, but I'm hoping you will read and enjoy it. You're welcome to keep it for as long as you wish, and you can even mark it for your "permanent collection" if you'd like...but you don't have to.
In fact, there are no requirements: it's really a free book - no strings. On the other hand, if you
do
make a journal entry to let the book's previous readers know that it's safely in your hands (anonymously if you wish), that would be super. :D
If you're new to BookCrossing, I hope you will take some time to explore this wonderful free and anonymous community of book lovers and learn about what it has to offer. If you decide to sign up, you may use me (
hyphen8
) as your referring member if you like.
When you're done with the book, please do feel free to make a journal entry saying what you thought of it or what you plan to do with it next. If you decide to pass it this book to another reader or leave it for someone else to find, joining BookCrossing will allow you to follow the book's future travels whenever another reader makes a journal entry...who knows where it will turn up next?
BookCrossing: making the whole world a library!
---

Journal Entry
3
by

BooksandMusic

at
Seattle, Washington USA on Monday, July 22, 2013
Not sure where we got this book, probably got left out of a previous box that went through our hands. oops! Anyway, got read by 3 people in this house and is now going into the ABC book box.
---

Journal Entry
4
by

BooksandMusic

at
Seattle, Washington USA on Tuesday, July 23, 2013
Released into the ABC book box which is now on its way to JudyGreenEyes.
---

Journal Entry
5
by
k00kaburra
at
San Jose, California USA on Monday, November 04, 2013
This book enjoyed a brief stop in San Jose, CA before continuing its journey in the ABC Bookbox!
---

Journal Entry
6
by
JennyC1230
at
Woodstock, Georgia USA on Wednesday, December 11, 2013
This book returned in my
ABC Bookbox
. I'm not going to read this one so it's ready to travel.
---

Journal Entry
7
by
JennyC1230
at
Woodstock, Georgia USA on Wednesday, August 08, 2018
Donating this book to the local library.
---