Poisonwood Bible
6 journalers for this copy...
Interesting technique of exploring different views of the same events...
Fascinating interface between missionary ideas and African continent....
I think author ought to have risen to the challenge of making the father be a character who gets to speak, so that we could see him a bit sympathetically. I think it is a cop-out to paint him as ALL BAD, even if he is the kind of character it is easy to abhor.
---
(Haven't finished it yet, but I love it so far.)

I was in the Oberlin Public Library with my friend's Aunt, and this book was lying on a shelf near the entrance. (I suppose it's a place for "free" things--magazines and the like.) She told me how much she'd enjoyed the story and said I'd probably like it myself. We saw the BookCrossings note inside the cover and were delighted. It's such an exciting idea; a free book and a connection to people, nearby or far away, friends or strangers. I feel lucky to have come across BookCrossings and particularly through such a fine book as this one--I can't wait to continue its progress. I think I will give it to a friend of mine, if she hasn't read it yet; otherwise, I'd like to leave it somewhere on campus when the semester starts. I do like the idea of leaving it for some unknown future reader; maybe they'll enjoy the experience and the book as much as I have.
---
Just received this book through the mail and will read it this weekend. The opening few paragraphs are stunning and if the rest of the book holds up to that promise of words transforming from mere text into vivid images, then I am sure I will love it. Thank you so very much Laura!!
---
I have tried many times to read this book, and though I do like the writing, I just can't get involved. Very strange. But...I bought the mass market edition today and I will take that with me to UK for travel reading, and perhaps to release over there. This one I think I'd like to release somewhere local. I have a spot in mind, a cafe that boasts LOTS of successful releases, so I will try to go up there next Wed and leave the book. I will make release notes when I do.
---
Keep all fingers and toes crossed that this will be a successful release at Belle Vitta Cafe!
---
Journal Entry
6
by
PostMuse
at
Caffe Bella Vita - 30 Charles St., Beacon Hill in Boston, Massachusetts USA on Wednesday, January 29, 2003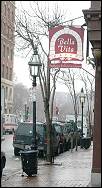 Released on
Wednesday, January 29, 2003
at
Beacon Hill - Charles Street - Bella Vita Caffe
in Boston, Massachusetts USA.
Will leave sometime between noon and 3 p.m.
---


I wasn't going to take this book. Really. I just dropped by Bella Vita Caffe as I was walking home this evening, because I wanted to release a copy of "Wind In The Willows." Really, I wasn't going to catch any new books.
====
This is a beautiful, disturbing, challenging, painful novel. Even though I found the polemical tone of the last hundred or so pages tedious, it was well worth reading. Highly recommended.
---

Journal Entry
8
by
Deborah909
at
Back Bay - Arlington Street in Boston, Massachusetts USA on Sunday, February 2, 2003
Released on
Sunday, February 02, 2003
at
Back Bay - Arlington Street
in Boston, Massachusetts USA.
I am planning to release this novel to the Prison Book Program.
---
---
Journal Entry
10
by
rem_SBS-434516
at
Caffe Bella Vita - 30 Charles St., Beacon Hill in Boston, Massachusetts USA on Wednesday, February 5, 2003
---
Ok I'm not really in San Diego right now, I live there, but am home visiting family and friends. I found the Poisonwood Bible in a little italian coffee shop/restaurant/gelato place on Charles street in Boston. I haven't yet read it but I'm very excited to. When I was on Safari at the Ngorongoro Crater, I was told that this is a great book. I intend to read it, maybe during my visit here, or maybe on my way back home to Sunny San Diego. Reading the other entries it appears that I found it at the Bella Vita Cafe, thanks I look forward to reading!
jt
---