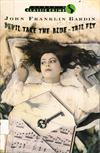 Devil Take the Blue-tail Fly
3 journalers for this copy...

...The story is seen through the eyes of a woman, a professional harpsichordist, who is being released from a mental hospital (again) when the book begins. She returns to her potentially happy and convertible existence with her husband Basil, a conductor of increasing fame. The harpsichord is in the house, but Ellen cannot find the key. Finally Basil finds it in the lock of the of the instrument itself, where it should be. Ellen lunches with her husband's sister Nancy in Manhattan, and who should turn up at Nancy's flat, but Jim Shad, a handsome and well-known folk-singer with a guitar, and with whom Ellen had an affair while still a schoolgirl... (gadetection)
---

Journal Entry
2
by
teufelchen007
at
sent by mail (Graz) in -- Per Post geschickt/ Persönlich weitergegeben --, Steiermark Austria on Sunday, September 30, 2012
Released 7 yrs ago (10/2/2012 UTC) at sent by mail (Graz) in -- Per Post geschickt/ Persönlich weitergegeben --, Steiermark Austria
WILD RELEASE NOTES:
---
Aus der Flora- und Fauna-Box gezogen. Das Buch macht einen Abstecher bei mir, bevor ich es dann in die OBCZ-Mensa-TU-B stellen werde, denn dort sollte die Box ja aufgelöst werden (falls ich keine Idee für einen anderen begisterten Leser habe).

Das Label find ich klasse!
---
Journal Entry
4
by

OBCZ-Mensa-TU-B

at
Charlottenburg, Berlin Germany on Wednesday, January 09, 2013
Dieses Buch liegt jetzt hier im öffentlich zugänglichen Regal bereit, um mitgenommen zu werden. Dem Finder wünsche ich viel Spaß beim Lesen.
Ich freue mich, wenn Du es anschließend wieder weitergibst.

Essenszeiten sind wochentags von 11:00-14:30 Uhr, danach ist der Raum noch bis 17:30 Uhr offen, man muß dann allerdings die hintere Treppe nehmen. Es handelt sich um eine OBCZ - eine offizielle Bookcrossing-Zone mit vielen weiteren rgistrierten und unregistrierten Büchern, Link: http://bookcrossing.com/myshelf/OBCZ-Mensa-TU-B .

Liebe/r Finderin/Finder,
wenn wir Bookcrosser Bücher freilassen, dann tun wir das, um anderen eine Freude zu machen!
Und das allerschönste am Bookcrossing ist, wenn eine Finderin/ein Finder einen Eintrag zu dem Buch macht und wir so eine Rückmeldung bekommen: wo das Buch gefunden wurde, wie es der Leserin/dem Leser gefiel und wie die Reise des Buches anschließend weitergeht.

Die Finderin/der Finder kann dabei völlig anonym bleiben!!

Wenn Ihr Euch anmeldet und so auch direkt mit uns in Kontakt treten, gezielt nach Büchern fragen könnt, bekommt dabei niemand die E-Mail-Adresse. Sie ist nur zum Anmelden. Angeschrieben werden kann man nur über ein Kontaktformular auf dieser Internetseite über den Nick-Namen (auch das kann man "ausstellen")

Doch nun wünsche ich dem Buch eine gute Reise und Dir eine schöne Zeit beim Lesen!
---