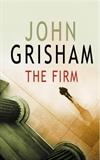 The Firm
3 journalers for this copy...
When Mitch McDeere signed on with Bendini, Lambert & Locke of Memphis, he thought that he and his beautiful wife, Abby, were on their way. The firm leased him a BMW, paid off his school loans, arranged a mortgage, and hired the McDeeres a decorator. Mitch should have remembered what his brother Ray-doing fifteen years in a Tennessee jail-already knew: You never get nothing for nothing. Now the FBI has the lowdown on Mitch's firm and needs his help. Mitch is caught between a rock and a hard place, with no choice-if he wants to live.
---
Este livro vai seguir viagem no âmbito da Troca de Natal 2012 :)

Espero que gostes, amigo/a secreto/a!
---

Journal Entry
3
by
PaiNatal
at
-- Airport / Aeroporto --, Lisboa (cidade) Portugal on Monday, December 17, 2012
This book is the Portugueses Santa Claus, who will deliver it soon!

Merry Christmas!
---
Journal Entry
4
by
fungaga
at
Lisboa - City, Lisboa (cidade) Portugal on Saturday, December 22, 2012
E já chegou a minha prenda. Já ouvi dizer muito bem deste livro e fico muito contente pela oportunidade de o ler. Veio acompanhado de uma nova aventura dos cinco. Nem de propósito, a fungagazita anda toda entusiasmada com as velhas aventuras :-) e gostou muito. Os marcadores foram um miminho extra de que gostámos IMENSO. Muito obrigada, Janeka, pelo empenho que puseste na escolha. A família fungaga em peso deseja-te um Natal muito feliz e um ano de 2013 cheio de boas surpresas!
---
Foi MUITO BOM pegar neste livro. Já há algum tempo que um policial/mistério não me agarrava desta maneira. Ando a arrastar um outro livro há séculos e decidi meter este pelo meio. E fiz muito bem :-). Embora haja algumas coisas previsíveis, o autor sabe mesmo escrever a trama, deixando-nos em suspense com muita mestria. Mais uma vez, muito obrigada Janeca, foram uns belos dias de leitura. Acho que vou ver o filme, agora.
---