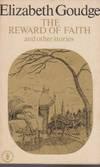 The Reward of Faith and Other Stories
2 journalers for this copy...

This collection first published 1950. This edition 1971. Hodder and Stoughton. Illustrated by Claughton Pellew.

Religious short stories.
Contents:
I. The canticle of the sun
II. The reward of faith
III. The three grey men
IV. The legend of the first Christmas tree
V. Son of David
VI. The ikon on the wall
VII. The Well of the Star
VIII. By the waters of Babylon.
*
Edit 29.4.2013

The stories are situated e.g. in Betlehem, France and England. It was a nice surprice, that one of the stories, The ikon on the wall, was happening in Russian Karelia. The main character was russian Marya, who had married a finnish man, Paavo. In the story there is a citation from Kalevala:
Clothe the pine trees all in silver,
And with gold adorn the fir trees.
Aged pine trees belt with copper,
Belt the fir trees all with silver.
Birch trees with their golden blossoms,
And theis trunks with gold adornment.

I had to try to find, what it is in the original finnish version and it must be this:
Hope'ihin hongat laita,
kuuset kultihin rakenna,
vanhat hongat vaskivöille,
petäjät hopeavöille,
koivut kultakukkasihin,
kannot kultakalkkaroihin!

The words are sung by Lemminkäinen (Song 14). He sings to forest spirits (e.g. Tapio) prayers so he can catch the Hiisi elk.

In the same page (123) there is also a saying: "Hearken to the whisper of the fir-tree at whose foot thou hast thy dwelling". "Sitä kuusta kuuleminen, jonka juurella asunto" in Finnish.

However my favourite story in this collection was The canticle of the sun. It's about forgiveness and tells about Brother Clement, who is an old Franciscan.

---

Journal Entry
2
by
halonhakkaaja
at
Kuopio, Pohjois-Savo / Norra Savolax Finland on Tuesday, June 11, 2013
Released 6 yrs ago (5/8/2013 UTC) at Kuopio, Pohjois-Savo / Norra Savolax Finland
CONTROLLED RELEASE NOTES:
Lähetetty eteenpäin.
---
Journal Entry
3
by
Niiti89
at
Joensuu, Pohjois-Karjala / Norra Karelen Finland on Friday, August 02, 2013
Minulla siis tämä nyt :D
---