Garden in the Wind, Enchanted Summer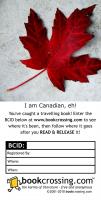 Registered by

gypsysmom

of
Winnipeg
,
Manitoba
Canada on 7/9/2012
2 journalers for this copy...

This is No. 155 in the New Canadian Library. My sister passed it on to me.
This book was caught before I could enter my review.
Gabrielle Roy began her writing career with The Tin Flute in 1945. The stories in this volume were written in 1976 and 1977 so she had over 30 years of practicing her craft. It shows. There are so many wonderful passages that I can't point to just one as my favourite. I'm not even sure I can pick a favourite story.
The four stories in the first portion are set in Western Canada and are longer than the vignettes of summer life in Quebec that comprise the second portion. Also, the stories in the first portion are about people whereas, for the most part, the ones in the second are about nature. I like both types of stories but the ones about nature strike a chord with me since I read this book while on holidays in South Dakota. We stayed at two great state parks, Custer and Lake Herman, and our primary activity in both places was viewing wildlife. Especially in Lake Herman we saw lots of birds so Ms Roy's stories about the birds she observed during her Enchanted Summer were especially appropriate.
Gabrielle was born, I believe, in 1910 just two years after my father was born and seven years before my mother. Like my mother Gabrielle went to the Winnipeg Normal School and taught in several rural schools. So I think I know quite a bit about her background. Of course, she was French speaking and grew up in Winnipeg unlike my parents who were English and were raised in rural settings. Nevertheless I think she and my mother would have had a great deal in common. Mom loved to watch the birds and her garden was not just a place to grow vegetables as she always had flowers. She would have loved the description of the gatte at page 19 of Enchanted Summer. The gatte was a piece of poor land on Monsieur Emile's farm that he fenced in and put a cow to graze one summer. The next summer lovely rose coloured flowers called kalmia started to bloom there. And that was just the start:
Scarcely was the kalmia installed than all around it were blue flags. The two did not harm one another though, for while the kalmia sought out the driest spots, the flags delighted in the oozy hollows. Buttercups crowded in between them. The old gatte, all rosy pink the year before, was this year of varied colours. In autumn goldenrod and long-leafed asters circled the stagnant water that glimmered faintly in all the little hollows of the gatte. And those minuscule holes, each scarcely bigger than an eye, managed to reflect the long gilded plumage of the goldenrod, the delicate muted lilac of the asters, a bit of sky, passing clouds and eve, on occasion, the flight of some bird of land or sea.
So, although at the beginning I said I couldn't pick a favourite passage, it seems I have managed to find one that at least indicates how lovely the writing is. I hope the next reader will also find a passage or two that speaks to him or her. I'm going to leave this book at Lake Herman State Park in the hopes that some visitor will enjoy it before the park closes down for the season in a few weeks.

---
Journal Entry
2
by
marisadg97
at
Madison, South Dakota USA on Saturday, September 22, 2012
I was on a bike ride with my little brother & as we approached the beach, I stumbled upon the book! I will definitely keep passing it on :)
---