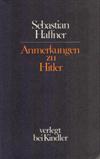 Anmerkungen Zu Hitler
Registered by

RoseOfDarkness

of
Baruth/Mark
,
Brandenburg
Germany on 6/1/2012
3 journalers for this copy...
Journal Entry
1
by

RoseOfDarkness

from
Baruth/Mark
,
Brandenburg
Germany on Friday, June 01, 2012
Vieles gibt es, dass man lesen kann, über Hitler, sein Leben, seinen Aufstieg, seinen Fall, seine Verbechen. Nicht selten sind es sehr umfangreiche Werke, alle mit dem Ziel verfasst, die gerade uns deutsche immer noch sehr beunruhigende Frage zu beantworten, wie das alles geschehen konnte. Man kann alle diese Werke lesen. Man kann.
Im Vergleich kommen Haffners Anmerkungen eher bescheiden daher, was denn Umfang angeht. Doch hier ist ein Buch, das man gelesen haben muss. Und sehr wahrscheinlich kommt man nach der Lektüre dieser brillant geschrieben Essays über das Wirken und Versagen des A.H., über seine Verbechen, seine Leistungen und schliesslich seinem Verrat an den Deutschen, zu dem Schluss, dass das was man da gelesen hat die Fragen beantwortet, die jene geschichtliche Epoche seiner und den folgenden Generationen stellt.Kurz, klar und prägnant.
Haffners Anmerkungen zu Hitler - mehr ist nicht notwendig.


Gern lesen heißt, die einem im Leben zugeteilten
Stunden der Langeweile gegen solche des Entzückens einzutauschen.
(Charles-Louis de Montesquieu)

---
Journal Entry
2
by

RoseOfDarkness

at
1001 Bookbox, A Bookbox -- Controlled Releases on Thursday, July 05, 2012
Released 7 yrs ago (7/5/2012 UTC) at 1001 Bookbox, A Bookbox -- Controlled Releases
CONTROLLED RELEASE NOTES:
Darf in der [BOX] 1000. Bücher Raritäten 2 mitreisen.
Man druckt viele neue Bücher; man würde gut tun, wenn man einige alte Bücher von neuem druckte.
Hippolyte Taine
Lieber Finder - auf ein Wort:
Wenn du dich bei Bookcrossing anmelden willst, kann es passieren, dass du sehr schnell Freundschaftsanfragen und/oder "Begrüßungsmails" von anderen Bookcrossern bekommst. Diese Funktionen laufen rein über die Internetseite als "personal message" - deine e-mail-Adresse kann niemand sehen!
Du kannst diese Funktionen gleich nach deiner Anmeldung abschalten, wenn du "Profil bearbeiten" anklickst und dort deine Einstellungen nach eigenem Beliebem vornimmst.
Bei Fragen zu Bookcrossing kannst du dich gerne (durch personal message) an mich wenden.
Es ist aber auch ganz einfach nur einen anonymen Eintrag zu machen.
Einfach den Button
"Nein danke, ich möchte lieber völlig anonym bleiben"
anklicken.
Der versteckt sich unter den 3 Feldern Twitter/Goodreads/Facebook.
Die deutschsprachigen Bookcrosser tauschen sich übrigens in einem öffentlichen Forum aus, in dem jeder Interessierte auch unregistriert mitlesen kann:
Forum
Forum Austria
Außerdem empfehle ich Dir bei Fragen die Supportseite
Supportseite
Welcome to BookCrossing. Thanks for taking the time to visit the site. Please make a journal entry to let me know that you have found this book, you may do this anonymously or you may join. There is no charge to join this site, if you are like myself from time to time you may donate to help support Bookcrossing; but it is not mandatory. If you are new to BookCrossing and choose to join, please indicate that you were referred by RoseOfDarkness. Membership is free and your name and e-mail address is not shared with anyone else and it will never be sold. BookCrossing is a a world-wide group of people who love books and wish to share them with others.
Please enjoy this book, if it is not your genre pass it along to someone else or wild release it.
In this way we promote literacy and at the same time we can watch our book continue on
it's journey.
"Kindness is a language which the deaf can hear and the blind can read."
Mark Twain
---
Das Buch wurde RoseOfDarkness [BOX] 1000. Bücher Raritäten 2 entnommen.
---
---

Journal Entry
5
by
book-a-billy
at
München, Bayern Germany on Saturday, July 09, 2016
Kam in einer Riesenbox bei mir an, vielen lieben Dank! Es mweldet sich wieder, sobald ich es gelesen habe.
---