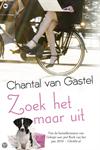 Zoek het maar uit
Registered by
prizzy
of
Leiden
,
Zuid-Holland
Netherlands on 5/17/2012
This book is in a Controlled Release!
1 journaler for this copy...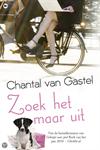 Ella (ik-personage) leeft een veilig leventje. Ze werkt samen met haar beste vriendin in een boekhandel en heeft samenwoonplannen met haar vriend Owen. Dan wordt ze tijdens haar werk overvallen en dat verandert iets bij Ella. Ze beseft dat het leven veel te kort duurt en dat ze eindelijk haar plannen eens wil uitvoeren. Ella besluit een tijdje te logeren bij haar broer Boris. Daar komt ze na jaren haar jeugdliefde Dex tegen, die nu huisgenoot is van haar broer. Dex helpt Ella met het uitvoeren van haar plannen, zoals het schrijven van een boek, waarvoor ze inspiratie opdoet dankzij gesprekken met haar oma. Zeer vermakelijke roman, met geloofwaardige karakters en grote chemie tussen de twee hoofdpersonages. Om hen nog beter te leren kennen, wordt de lezer ook getracteerd op flashbacks van Ella's en Dex' jeugd. Vooral bijzonder zijn de hoofdstukken waarin je mee kunt lezen met Ella's boek, dat gaat over de jeugdbelevenissen van haar oma. De auteur verwierf faam met de chicklit 'Zwaar verliefd'* en kan zich inmiddels rekenen tot een van Nederlands populairste chicklitschrijfsters.
---
Hello Kind Reader,

Just a quick note that I've registered this book at BookCrossing.com, so that I can keep up on where it goes, who reads it, and what they thought of it.
Please visit www.BookCrossing.com to make a quick journal entry, then pass the book along to someone else who will appreciate it.

We can all track this book's journey and the lives it touches forever more!

Thank You!

Hallo daar, vinder!
Als je dit leest, heb je een boek gevonden. Gefeliciteerd! Hopelijk is het iets dat je leuk vindt; zo niet, dan heeft het je toch tenminste hier gebracht en dat is ook wat waard. Je mag het boek gerust doorgeven aan iemand anders, of zomaar ergens achterlaten.

Ondertussen was je toch maar mooi nieuwsgierig genoeg om op deze site te komen kijken. Kijk gerust wat rond. Veel plezier!

Als je het boek ook wilt volgen dan kun je je het beste aanmelden als nieuwe bookcrosser (Engelse pagina). Ik zou het erg leuk vinden als je mijn naam (prizzy) wilt invullen als Referring Member,dan kan ik zien dat je ook een geregistreerde bookcrosser bent geworden.
Oh ja, er is ook een Nederlandse website voor als je nog meer wilt weten over bookcrossing en een groot aantal Official BookCrossing Zones (zeg maar trefpunten) in Nederland waar je boeken kuntvinden en neerleggen en medeBookcrossers kunt ontmoeten.

---