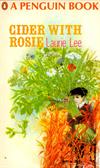 Cider with Rosie
Registered by

Nu-Knees

of
Knaresborough
,
North Yorkshire
United Kingdom on 5/10/2012
3 journalers for this copy...

Journal Entry
1
by

Nu-Knees

from
Knaresborough
,
North Yorkshire
United Kingdom on Thursday, May 10, 2012
I've been culling a few books from my keeper shelves, ones I've kept for a possible re-read but which I'm unlikely to get around to. I'm slowly learning that I can't keep every book I've ever enjoyed, so I'm registering and releasing some of them to find new readers. This one's so old it's priced in £SD, i.e. it's pre-January 1971 when we changed to £ p, and it pre-dated ISBN numbers!
It's so long since I've read it I can't make any detailed comments except that I must have enjoyed it or I wouldn't have kept it!

Amazon Editorial Review: "One of eight children, Laurie Lee was born in 1914, in Slad, Gloucestershire, then a remote corner of England. As his father was absent, the large family five children from his father's first marriage and three from his second one was brought up by his capable mother. 'We lived where he had left us; a relic of his provincial youth; a sprawling cumbersome, countrified brood too incongruous to carry with him; and I, for one, scarcely missed him. I was perfectly content in this world of women . . . bullied and tumbled through the hand-to-mouth days, patched or dressed-up, scolded, admired, swept off my feet in sudden passions of kisses, or dumped forgotten among the unwashed pots.'
This beloved classic describes a lost world, a world reflecting the innocence and wonder of childhood, and illuminating an era without electricity or telephones. This is England on the cusp of the modern era, but it could have been anywhere. This may explain why Cider with Rosie became an instant bestseller when it was published in 1959, selling over six million copies in the UK alone, and continues to be read by children and adults all over the world."
---

Released 10 yrs ago (5/14/2012 UTC) at Ripley, North Yorkshire United Kingdom
CONTROLLED RELEASE NOTES:
To fulfil a BookCrossing Wish List wish!

Over a million people around the world give their books a unique BookCrossing IDentity number (BCID) before sending them out to find new readers. Since the start of the scheme in April 2001 well over 9 million such books have been put into circulation. This is one of them!
Our hope is that we can track the progress of our books once they've left our hands - and that's possible if finders like you visit the website, key in the BCID and leave a comment, however long or short. It's fun, it doesn't cost anything and you can remain anonymous if you wish. You don't have to join but if you do you'll be able to number and track your own books!
---

This book, along with others, arrived safely thanks to the generous nature of Nu-Knees. Many Thanks.
---

"Never to be forgotten, that first long secret drink of golden fire,juice of these valleys and of that time,wine of wild orchards,of russet summer,of plump red apples,and Rosie's burning cheeks.Never to be forgotten, or ever tasted agin........."

Firstly let me admit that I'm a fan of history and not just battles, Kings, Queens, dates etc but socila history as well. This is a book of a slice social history.We see a life set around the family kitchen, early school years,family and friends but in particular the various seasons of nature.


'Cider With Rosie' is a tale of the author's early life growing up within a large family, without a real father figure influence,in a Cotswold village in and around the 1920s and is told from the standpoint of a child. However, in many respects it is a tale told in a series of short stories as it concentrates on differing elements of a simple and insular village life before the arrival of the motor car. Now I personally loved the chapter about the 'Grannies in the Wainscot' in particlar. Two old ladies, so differing in their characters who despite living as neighbours never once spoke to one another yet whose lives were regulated by each others very presence. It is not a story told with any real angst or through rose tinted glasses it is just told as it was, plainly and matter of factly just as is the rest of the book. We see a life set around the family kitchen, early school years,family and friends but in particular the various seasons.

Laurie Lee was a poet and a screen-writer as well as a novelist and this shines through in his choice of language. It starts when the author is but a toddler recalling some of his earliest memories. Here his world is large, scary, cosy and baffling, a world dominated by females and the language reflects this. Lee's real skill is that as the child grows so does his vocabulary as in normal life but never does the child's voice leave it. The language is always beautiful and so suggestive it takes you in and wraps about you like a blanket.

In many ways it is a book of nostalgia, a book of a by-gone time but it is also an illustration of writing about what you know. It is seen by many as a modern classic and rightly so IMHO.


---

Released 7 yrs ago (1/5/2015 UTC) at Furness Vale, Derbyshire United Kingdom
CONTROLLED RELEASE NOTES:
Going off to Lancashire as a BookMooch. Enjoy!
---
Just received on BookMooch, have yet to read!
---