Palace Guard, The
5 journalers for this copy...
This book is from the library of Purple58
She was a crappy Bookcrosser
But a wonderful human being
---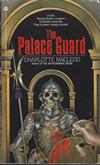 This is not an ordinary book: it's a
BookCrossing
book! BookCrossing books are world travelers - they like to have adventures and make new friends...and every once in a while they even write home to say what they've been doing.
☻ ☻ ☻
This book was found in the library of
Purple58
, a very special woman whom I was fortunate enough to meet through our BookCrossing group, the Table of Contents.
Fiercely independent, with a loving heart and a wicked sense of humor, she was passionate about
the things she believed in
and was willing to
stand up and be counted
when necessary. She was truly a one of a kind individual, and she will be missed by all of her many friends...who prefer to believe that she's off in Vegas, having a fabulous time and eating as many desserts as she wants.
This book came home from purple58's wonderful send-off with me. I think Holly would have loved her final party and I'm glad I was able to be a part of it. This book will be heading out soon in honor of an exceptional woman who would be happy to see her books keep traveling.
---


Headed for Arizona via media mail.
Released for RockDg9's
The The challenge
.
~ ~ ~ ~ ~
I'm so glad you've found this book!
Please take a moment to make a journal entry and let the book's previous readers know that it's safe with you.
How and where did you find the book? What did you think of it? What are you going to do with it next?
It's now your book, for you to do with as you please: keep it, pass it to a friend, or maybe even leave it where someone else can find it!
If you've ever wondered where your books go after they leave your hands, join BookCrossing and you may find out: you'll be able to follow the further adventures of your books as new readers make journal entries - sometimes from surprisingly far-flung locations.
(Think of it like Where's George for books: a little like geocaching or a treasure hunt - you can follow a registered book's journey every time someone makes a new entry. Some BookCrossers even leave books *in* geocaches!)
BookCrossing: making the whole world a library!
---

Journal Entry
4
by

BOOKWORMINUSALL

at
Mesa, Arizona USA on Sunday, December 04, 2016
THANK YOU VERY MUCH, hyphen8, for this book that came as part of a lovely little boxful of books that were once a part of Purple58's collection, who I never personally met...may she Rest In Peace. I will be deciding which few I'd like to keep to read, and will eventually Wild Release, and share them all with others, in order to help make Purple58's wish that all her books find good homes when she is gone come true. ; )
---

Journal Entry
5
by

BOOKWORMINUSALL

at
Trumansburg, New York USA on Tuesday, December 13, 2016
Controlled Release for:
1. *US* Only - "READ IT, SWAP IT, LEAVE IT" Bookring Game
http://www.bookcrossing.com/forum/20/535740
2. What's in a Name (DragonGoddess) http://www.bookcrossing.com/forum/23/535547
PA, LACE, ARD...The [Pa][lace] Gu[ard]
HAPPY READING! : )
---

This mystery was an entertaining romp and a nice quick read over the holiday weekend. The cast of quirky, over-the-top characters were fun, and provided plenty of hijinks as they tried to solve a mystery. Most of the scenarios seemed pretty unlikely, and the writing wasn't particularly memorable. It isn't a good book for deep contemplation, but good for a bit of casual, mindless fun.
---

Back on the road in the Read it, Swap it, Leave it Game
---

Journal Entry
8
by
rhythmbiscuit
at
Northglenn, Colorado USA on Monday, February 27, 2017
This is the book I chose to Read from the Read It, Swap It, Leave It game. It was a fast little read. From the way it was written, I would have thought it was set in Boston decades earlier than the 1980s.

The box will return home with this book.
---

Journal Entry
9
by

BOOKWORMINUSALL

at
Mesa, Arizona USA on Sunday, April 09, 2017
Thank you so much for participating in my first ever
Group 1 "READ IT, SWAP IT, LEAVE IT" Bookring!!!
http://www.bookcrossing.com/journal/14324309

And THANK YOU for your patience in waiting for so long for me to be able to make a Journal Entry!!! ; ) Been a rough month, explained in part here. http://www.bookcrossing.com/forum/5/533419/8913767
---