Peter Pan
4 journalers for this copy...

"Neverland is always more or less an island, with astonishing splashes of colour here and there"

(12/07) Review to follow
---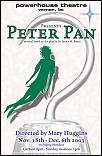 This was a strange read, at once familiar, but with odd language (not quite for children, a bit world-weary), some surprises - see below - and a sort of surreal, dreamlike quality (duh, maybe that's the whole point!)
Anyway, you know the main storyline so I won't repeat it; but I did learn a few things that I didn't know, or had forgotten, or weren't quite translated into the Disney version ;) Don't look at this list if you plan to read the book: not that I would particularly recommend it to adults:
'Nana' really is a dog!

The Lost Boys are so called because they fell out of their prams and were unclaimed

The LBs leave Neverland to live with the Darlings

In common with the Greek God of the forest Pan (son of Hermes), Peter plays the pipes, lives in a wood, and is a shepherd to the LBs; well sort of
OK, I cheated with that last one, but at least I did my research into classical mythology!
The most interesting character by far is PP himself, "All children, except one, grow up". But, he's not really a nice boy; by turns he is cruel, vain, insecure, forgetful & selfish. He is forever trapped in the body of a boy 'with all his first teeth', and dominates Neverland with a bullying swagger, and outrageous caprice. By comparison the Lost Boys are only partly drawn, and only temporary visitors; it is not allowed for this tribe of boys to grow up, so numbers are kept down by death during the constant battles with the pirates and redskins, and when Peter 'thins them out', whatever that means!
Captain Hook is also more interesting than a one-dimensional pantomime villain – wasn't Dustin Hoffman just the best Hook btw. He is a foppish, confused ex-public schoolboy, obsessed with 'good form', fearful & hate-filled (not just his arch-enemy Peter – but he despises his own crew as well). In the end death seems to come as a blessed relief.
In the epilogue Wendy continues to be 'mother' & housekeeper for Peter and then provides a succession of females (daughter and granddaughter etc.) to continue the duties, as she grows old. I though it was quite a sad ending?
---

Released on
Saturday, July 17, 2004
at
BCUK 2004 Unconvention @ Apres Bar, Summerrow
in Birmingham, England Controlled Releases.
Too many books! I think some of mine got picked up...should do wonders for my releasing & catching figures :)
---
Picked up at the BCUK Unconvention in Birmingham. A couple of times recently people have commented how dark the story is compared to the Disney cartoon, and now I'll be able to see for myself.
---
I'd never read this book before and I don't think I've ever seen the panto or the whole of any of the films either, but of course I vaguely knew the plot from seeing various parts of the cartoon version on those Disney Time TV programs that used to be shown every bank holiday.

It is a darker story than I was expecting; the fairies and mermaids are otherworldly and treacherous and Peter's forgetfulness makes him an unreliable and at times unnerving companion. He isn't really human at all any more - he spent too long with the fairies and that is never a good thing. Because Peter Pan refuses to grow up, he will remain 'gay and innocent and heartless' forever.

---
Released 15 yrs ago (9/25/2004 UTC) at
WILD RELEASE NOTES:
RELEASE NOTES:

Nottingham BookCrossing meet-up, upstairs at Weatherspoons from 12 noon onwards.
---

This just sort of 'fell' into my bag at the Nottingham Meet ;) Thanks!
---

All I knew about 'Peter Pan' before I read the book was that it featured Peter Pan, Wendy, Tinker Bell, Captain Hook and Neverland, so it was nice to read the story that linked all of these together. A fun tale, full of adventure!
On its way to
AM10000
as a RABCK after I discovered it on her wishlist :)
---
This one just came in the mail today! Thank you so much for sending this book over to me!
Definitely looking forward to reading it!
---