Scarlet Feather
5 journalers for this copy...
sending of to a fellow bcer!
---

Received this book today from jendudley, thank you!!!
---

I'm currently reading this book. It is promised to a fellow bookcrosser in Portugal, "Virgulina".

---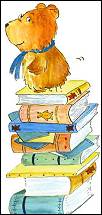 I finished this book yesterday in the bath-tub :-)
I quite enjoyed the book, even though I found some things very unrealistic, especially the part about the 9 year old twins and the way they spoke and behaved.
I will definitely read other another Maeve Binchy, I already have two in my Mount TBR (Quentins and Evening Class)
Now this book will continue its travels and go to Portugal!
Sent off today, Monday May 3rd, by surface mail!
---
I received this book today! Thank you so much
allbookedup
it will be added to my TBR mountain! :)
---
I have another copy of this book in Portuguese, so this one will be travelling to
conto
in Portugal, as she had it in her Wish List. Enjoy! ;o)
---

Journal Entry
7
by

conto

from
Lisboa (city)
,
Lisboa (distrito)
Portugal on Saturday, April 01, 2006
Thank you soooooo much!

I've never read anything by this author, and I'm quite curious, once everybody says such great things about...

It will be stuck in the TBR pile for a while, I bet, but I'll get to it one or other day!...
---

Journal Entry
8
by

conto

from
Lisboa (city)
,
Lisboa (distrito)
Portugal on Sunday, March 11, 2007
Ufff! Almost one year later!!! That's how long it took me...

I must confess I started reading it months ago but left it behind; then, started it all over again maybe two months ago but ended by leaving it once more; now I decided I had to put an end to it and get it through with or decide not to read it at all once and for all.
I read it but it definitely isn't my kind of book: I felt like it was dragging through the months of the year in the story... there were so many details about... well about everything and anything!
Or maybe it's really just me, but I just didn't empathise with this book at all and for me it felt like it had too many words for the story it was revealing.

Anyway, I was just so curious to read something from M.Binchy that I do feel it was worthwhile! Thank you so much for the opportunity, Virgulina!!

I'll try and find a reader who's able to appreciate it more than I did, now! Meanwhile, it'll stand as available.
---

Journal Entry
9
by

conto

at
By mail in To another bookcrosser, a surprise RABCK -- Controlled Releases on Sunday, August 12, 2007
Released 11 yrs ago (8/10/2007 UTC) at By mail in To another bookcrosser, a surprise RABCK -- Controlled Releases
WILD RELEASE NOTES:
---
Wow! Thank you so much, conto! What a really nice surprise! It was on my wish list and I'm really looking forward to read it! You really made my day! Obrigada! ;-)
---