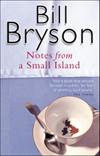 Notes from a Small Island
4 journalers for this copy...
Journal Entry
1
by
worldbooknight
at
London, Greater London United Kingdom on Sunday, April 22, 2012
Released 6 yrs ago (4/23/2012 UTC) at London, Greater London United Kingdom
CONTROLLED RELEASE NOTES:
This book is a gift. It is one of 1 million which has been given in the UK & Ireland as part of World Book Night 2012 to spread the joy and love of reading. We are glad that you are now part of this great book's journey, hope that you enjoy reading it and, once you have done so, passing it on to someone else who might enjoy reading it too.
World Book Night 2012 is all about introducing new readers to books and we'd ask that you please share this book with someone who does not read regularly and help inspire in them a love of books. When you pass it on, ask the next reader to record their own thoughts on this book by visiting www.worldbooknight.org and entering the unique identifying number.
---


Picked this book up at the World Book night event at Slack Space in Colchester. Reserved for a friend who is making a World Book night book box to tempt new readers with.
---

Released 6 yrs ago (6/21/2012 UTC) at Layer de la Haye, Essex United Kingdom
CONTROLLED RELEASE NOTES:
Included in a box of books given to chamonix44 at the meet-up at The Layer Fox.
---

Journal Entry
4
by
chamonix44
at
Almelo, Overijssel Netherlands on Sunday, June 24, 2012
Thank you ardachy for this WBN book, and the others that you gave me at The Layer Fox pub last Thursday night. I am gradually getting around to journalling everything, but it takes time as I'm not used to using this mini netbook that I have with me whilst in the UK.
I am going to start reading this book myself !! Then at least I'll know how to describe what it's about when I put it in my book box for others.
---

Journal Entry
5
by
chamonix44
at
Almelo, Overijssel Netherlands on Monday, July 09, 2012

I sat up most of the night reading this book. Some bits definitely did make me smile. When the author talks about English people in the beginning of the book, I can definitely see myself in them, or my mother, aunt, friend, or man who lived down the road etc. I liked it when he wrote that he was definitely starting to pick up some English expressions, like when someone brought him a cup of tea he found himself saying "Oooh lovely!"
I did make some notes as I read through this book, but I cannot find them right now. I have no idea where I put the piece of paper I wrote them on.
However, if I ever find it again, I will add more to this review.
Well actually I will find it soon, as I think I know where it might be. Give me another week and I´ll add the rest of my notes!
UPDATE
I found my notes:
It was a really enjoyable read and very humorous. I loved Bill's first impressions of England and the English and I had to smile because it was all true! There were some parts in this book that I really liked, like on page 200 he trips over his walking stick and turns the TV off with his head! He mentions that he was curious to know how he had done it in case he decided to make it a party piece! Also on page 315 where he describes how 3 dozen English people are having a picnic on a mountain top in an ice storm and he found it so unusual and mad that he thought, "God I love this country".
Lastly on page 354 he is wondering why a grapefruit was called a grapefruit. He describes it as an unfamiliar fruit that is yellow and the size of a cannonball and tastes sour and he wonders if someone was presented with it, way-back-when, and thought to himself "Well you know, it rather puts me in mind of a grape".....and maybe that's how it got its name. He says "I don't know about you but I don't believe I would think this"!!! It is just so funny! Loved it.
---

Journal Entry
6
by
chamonix44
at
Lochem, Gelderland Netherlands on Thursday, July 12, 2012
This book went home with Kathleen to Lochem!
---

Journal Entry
7
by

AnonymousFinder

at
Lochem, Gelderland Netherlands on Thursday, August 09, 2012
Marvellous book. It made me laugh so much. I was getting excited about Bill visiting the place where I was born in Yorkshire, but he missed my town out unfortunately!
---

Journal Entry
8
by
chamonix44
at
Almelo, Overijssel Netherlands on Thursday, August 09, 2012
I received this book back from Kathleen. She said it gave her armchair travelling around the UK for a while! She hasn't been back to the UK for years, as she says she is too old now. Pity!
---