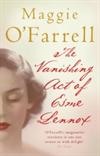 The Vanishing Act of Esme Lennox
Registered by
worldbooknight
on 4/23/2012
This book is in a Controlled Release!
5 journalers for this copy...
Journal Entry
1
by
worldbooknight
at
London, Greater London United Kingdom on Sunday, April 22, 2012
Released 7 yrs ago (4/23/2012 UTC) at London, Greater London United Kingdom
CONTROLLED RELEASE NOTES:
This book is a gift. It is one of 1 million which has been given in the UK & Ireland as part of World Book Night 2012 to spread the joy and love of reading. We are glad that you are now part of this great book's journey, hope that you enjoy reading it and, once you have done so, passing it on to someone else who might enjoy reading it too.
World Book Night 2012 is all about introducing new readers to books and we'd ask that you please share this book with someone who does not read regularly and help inspire in them a love of books. When you pass it on, ask the next reader to record their own thoughts on this book by visiting www.worldbooknight.org and entering the unique identifying number.
---

I found this book today whist in a charity shop in Torpoint as it had a BCID number I decided it would do more travelling with me than sat in the shop
---

---

Congratulations, you have picked up a travelling book!
If you have a moment, we'd love you to let us know you have the book as we're keen to follow its journey. You can even post a review when you've read it before passing it on to the next lucky person.
Happy reading!
Not sure what to do? Follow these steps!
1) You may continue as an Anonymous Finder. Or, Register as a member , then you too will receive future journal entries on this book and track its journey around the world!
2) Make a journal entry on this book to let us know how you found it!
3) If you choose to read the book, please make another journal entry when you finish it to let us know what you thought!
4) Ready to pass the book on? Click on "make release notes" to let us know where it's going! Leave the book in a public place or give it to a friend!
---
The book has arrived! Thank you Abi-Gibby!

ETA: Reserved for wishlist tag game (mcsar).
---
Enjoy the book and don't forget to journal it so that people have an idea of where it is going :)
---

Thank you very much for the wishlist tag. The book arrived safe and sound.

------------------------------
Updated January 11, 2019

Brilliant. I was totally drawn into the book.

I just notice that the bookish quotes on the bookcrossing site while I am typing this entry now happens be this one by Stephen King, "Good books don't give up all their secrets at once," which is the perfect description of this book.
---

Journal Entry
8
by

mcsar

at
Oppem's Birthday RABCK group, RABCK -- Controlled Releases on Wednesday, February 06, 2019
Released 8 mos ago (2/6/2019 UTC) at Oppem's Birthday RABCK group, RABCK -- Controlled Releases
CONTROLLED RELEASE NOTES:
Happy Belated Birthday! Due to poor planning, I could not finish reading in time to send this to make your birthday. It is always fun to extend the celebration ;-)

I loved the book and hope you enjoy it as much as I did.
---

Thank you mcsar for this b-day surprise. I actually like that it came a little late. I wasn't feeling good on "the day" and couldn't enjoy opening all the on-time books as much as I normally do. So...your timing was perfect!
I can't remember why this landed on my wish list, but the reviews sound wonderful. I'll get to it soon.
---

Well! I loved this! I've been running the characters in my mind ever since the novel ended so suddenly.
---

I'm releasing this during the "blind date with a book" swap at the Book Lit Club.
---