Hearts in Darkness (Nikki and Michael Vampire Novel)
Registered by
Flutterbies9
of
Meare
,
Somerset
United Kingdom on 3/18/2012

This Book is Currently in the Wild!
5 journalers for this copy...

Bought for a specific purpose (NSS) at a charity shop in Wells. There is a cunning plan for this book!

Cover.
"Life has never been easy for Private Investigator Nikki James; a teenager is missing; a madman is kidnapping the wealthy; she's got a vampire to contend with; and her partner and best friend, Jake, is in the hospital dying. And just when it seems like nothing else could possibly go wrong for her, Michael Kelly returns.

The last thing Michael needs is a confrontation with Nikki - especially when his control over his bloodlust is still so tenuous. But when a kidnapper steps up his agenda to murder, they are suddenly forced into a partnership. Soon Michael discovers the biggest danger may not be from his need to 'taste' Nikki, but from his desire to make her a permanent part of his life - a life that is sure to get her killed. Nikki is determined to make Michael see that life apart is worse than death. But before she can make him see the light, a spectre from Michael's past rises that could destroy any hope she has of a future with him."
---

Journal Entry
2
by
Flutterbies9
at
Meare, Somerset United Kingdom on Monday, March 26, 2012
Did not quite realise that this is book 2 in this series, however there are enough scattered references throughout which bring the reader an up to date precis on the contents of book 1.

This again had a feisty female lead, Nikki, who can be rather irritating in her headstrong rush to be active in whatever is going on around her. I found this a rollocking, rush of a tale with too little feeling of the magic element for me but some tension from the situation with Michael. The mix of fantasy, romance and mystery are well interwoven leading to some interesting encounters throughout the book. The vampires are as you would expect and the flame imps intriguing whilst the wraiths are a little too vague to be as scary as they should be - but perhaps that was just me! This was an easy book to read on a couple of nights and fitted well between other reads for the Easter NSS.

I'm determined not to add any spoilers to this, but I will say that though I may read another from this series if I come across it - I personally prefer the Riley Jensen series.
---

Journal Entry
3
by
Flutterbies9
at
-- Controlled Release, -- By post or by hand/ in person -- United Kingdom on Friday, March 30, 2012
Released 9 yrs ago (3/31/2012 UTC) at -- Controlled Release, -- By post or by hand/ in person -- United Kingdom
CONTROLLED RELEASE NOTES:
A special book for a special lady from an Easter bunny. Hope you enjoy.
---

Hello Easter Bunny!

Many apologies Flutterbies9 for not making a 'caught' journal entry on this in April, it's been sitting beside my computer desk for so long I assumed I had jouralled its arrival with me – but no! I'm currently reading it so was looking in my files to see what others of this series I had read when I realised there was no note of this on my booklist – oops!!!
---

Flutterbies9 your review is so spot on I'll just say I agree with your comments! I too thought the flame imps were magical and engaging, and I'll say that the fact the wraiths were thankfully not beyond getting tricked was a relief. On finishing my predominant thought was that Michael and Nikki winning the day against the combined forces of Cordell using black magic and Elizabeth an ancient vampire of eight centuries experience did seem terrifically brilliant luck.

Hearts in Darkness was a re-read for me, my first copy being a library find, though I didn't check my previous notes before embarking on it again. Exhilarating scene setting and complex plotting drive this through some taught action yet despite my interest I didn't particularly warm to Nikki and Michael. The Riley Jensen storylines have stayed in my memory longer, but yet I enjoyed this well enough and will continue reading other in the series as they come up. I have another copy of this, as yet unregistered so this is up for travelling…
---

GERMANY (EU) for nikel27 – this is one of three books in a parcel each with its own handmade bookmark. Also included, as further THANK YOU for a fab book swap in July, four more bookmarks with gift tags.

POST OFFICE LTD.
www.postoffice.co.uk
Posted: Post Office, 15 East Norton Place, Edinburgh Lothian EH7 5DR
Date & Time: Thu 06 Sep 2012 17:24
Session ID: 2-404359

---

thanks for your books and the handmake bookmark. Looking forward to read this book very soon.

update;
Good read, thanks for sharing with me
---

sent out via Paranormal Devils September 2013
---

This is one of mom's favorite authors. Thanks for sending Nikel.
---

Adding to emmejo's Vampire bookbox.
---

Journal Entry
11
by
JennyC1230
at
Woodstock, Georgia USA on Monday, June 08, 2015
Picked from Emmejo's Vampire Bookbox. This looks like a good series. I love Keri Arthur's - Riley Jenson series, so I am sure to like this one too. Thanks for sharing!
---

Journal Entry
12
by
JennyC1230
at
Woodstock, Georgia USA on Monday, December 07, 2020
My Review: I really loved this book, I have read others by this author, but this book was un-putdownable. Even though I haven't read the first book (I don't think), I had no trouble following the story. I loved the main characters, I will have to look for more in this series.

Sorry I have had this one so long. It's going to travel soon.
---

Journal Entry
13
by
JennyC1230
at
Little Free Library - Noonday Creek Trailhead in Woodstock, Georgia USA on Wednesday, December 30, 2020
Released 3 mos ago (12/30/2020 UTC) at Little Free Library - Noonday Creek Trailhead in Woodstock, Georgia USA
WILD RELEASE NOTES: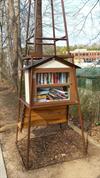 If you have found this book, welcome to Bookcrossing and thank you for taking the time to let us know about its journey. Feel free to enjoy the book and pass it along to a friend, neighbor, family member or co-worker, or simply leave it somewhere for another lucky reader to enjoy as you did! This book isn't your type of read? No problem, don't feel obliged to read it, just be kind enough to help it on its journey. If you join, please use my name as your referring member: JennyC1230.
Left this book in the Noonday Creek Trail Little Free Library. Enjoy the book!
---