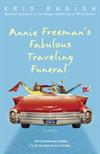 Annie Freeman's Fabulous Traveling Funeral
6 journalers for this copy...
Annie Freeman was a remarkable woman who touched the lives of so many people. In death, she brings together her best friends, some of whom know one another, some of whom have just heard of the others over the years. Annie plans her own funeral. One that will take these women to places that were important to her, and that become important to them. Along the way they put aside their differences and come to realize what is important in life. A wonderful read!
---
Journal Entry
2
by
BayAreaBookie
at
Panera Bread in Dublin, California USA on Wednesday, March 14, 2012
Brought to tonight' meeting and released. Enjoy the book!
---
Journal Entry
3
by
Calif-BookLover
at
Dublin, California USA on Thursday, March 22, 2012
This is one of my BEST EVER reading experiences. I started reading it the night that I picked it up at our regional BC meeting, and could hardly put it down. It really inspires introspection... who, of my circle of friends, would I choose to be part of my own traveling funeral? Where would I send them, so they could experience some of the joys (and lessons) I've had over the years? I have to admit that the book brought me to tears as well as laughter.

I'll arrange for the book to be delivered to JDT at the April BC meeting, so she can also experience this wonderful, creative, touching story.
---

happy to be next for this book with the great title, interesting concept, and recommendations from Calif-Booklover and BayAreaBookie!
Thanks so much for sharing this one - picked up this evening at our local meetup.
---

I loved the concept, stories, and pacing of this book!

Though sometimes it seems that women just a few years younger than I are almost another generation - in life experiences, drama, language -- the universals shared by women - friendships, life's ups and downs, joys & heartaches, the self-evaluating, reaching for more are all cause for celebration & sharing!
This funeral journey became such a liberating & miraculous gift to the participants as well as to people along the way.

Heartwarming and life-giving - as well as full of life and fun!

I also started a mental list of special friends/travelers, possible locations & experiences along the route...

I'm planning to send this to Dove-i-libri - as a RABCK from her wishlist, in memory of a very nice, active bookcrosser oppem who died this month.
http://www.bookcrossing.com/forum/10/479583



---

Journal Entry
6
by
Dove-i-Libri
at
Fort Myers, Florida USA on Monday, July 16, 2012
Received this in the mail today! Thank you so much! What a nice surprise, can't wait to read it! When I read your note re: oppem, I thought this might be one of the books on her bookshelf when she passed. Some BookCrossers have taken those books from her family and are distributing, sharing and wild releasing them. I see, however, that this is released IN MEMORY of her. What a great legacy for a great BookCrosser! Thank you, JDT!

March 23, 2014: Found this gem buried in Mount TBR! Short Listed!

July 7, 2014: Set aside for Booklady331's Already Been Crossed Virtual Book Box.

Aug 6, 2014: I have to admit that I loved this book, too. Someone mentioned that it invites introspection, and it does! Who would I choose? Where would I send them?

Now putting this aside to share through a virtual book box.

March 24, 2015: Claimed by NancyNova for Booklady331's ABC VBB Round 9. Will be sent off tomorrow!
---

Journal Entry
7
by
Dove-i-Libri
at
Virtual Book Box, -- By post or by hand/ in person -- USA on Wednesday, March 25, 2015
Released 4 yrs ago (3/25/2015 UTC) at Virtual Book Box, -- By post or by hand/ in person -- USA
CONTROLLED RELEASE NOTES:
☺ Happy Traveling, Book! ☺

---

---

bookbox; 5 friends are given the directive by their recently deceased friend to get together and follow Annie's directions to be the "pallbearers" of her ashes in an all expenses paid traveling funeral. At every stop, there's a surprise waiting that explains certain major things in Annie's life. At first very somber, the gals get in the spirit of Annie with Red hightop Keds and red bandanas. good book
Heading out to another BCr

---

Journal Entry
10
by

NancyNova

at
~ RABCK ~, -- By post or by hand/ in person -- USA on Sunday, July 07, 2019
Released 5 mos ago (7/7/2019 UTC) at ~ RABCK ~, -- By post or by hand/ in person -- USA
CONTROLLED RELEASE NOTES:
a wishlist book for you!
---

Journal Entry
11
by
iwillrejoice

at
Fort Myers, Florida USA on Saturday, July 20, 2019

Arrived safely in Florida today. Thank you!
---