I Am Legend
Registered by
jamieh2003
of
Wiley Ford
,
West Virginia
USA on 9/30/2003

This Book is Currently in the Wild!
6 journalers for this copy...
1954 hardcover edition. eBay win.
---
An excellent Apocalyptic tale.
Robert Neville, last man on earth, broods in solitude and tries to survive day to day without letting the victims of a vampire plague overcome him. Life becomes one of just subsistance, just surviving though he struggles with the thoughts of why he should fight so hard to stay alive when there's no evidence of other survivrs. False hope comes in many forms before this books climax but he manages to survive each time until the books brilliant denoument.
---
Journal Entry
3
by
jamieh2003
at on Friday, March 19, 2004
---
I love this book. It is the oldest book I have ever read and I thought it was great. Reminded me of movies such as Dawn of the Dead and 28 Days Later but better.
---
This made it home safe and sound. Now, I'm debating whether to release it via sf-books.com or to release it at our local OBCZ.
---
Journal Entry
6
by
jamieh2003
at
N/A in N/A, A Bookcrossing member -- Controlled Releases on Tuesday, August 03, 2004
Released on
Friday, July 30, 2004
at
N/A
in N/A, a fellow bookcrosser Controlled Releases.
Holy Crow! I forgot to make a release note for this the day I mailed it. It's going to Jaremeister via media mail.
---

Journal Entry
7
by

jare

from
Port Richey
,
Florida
USA on Friday, August 06, 2004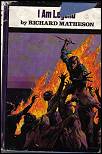 This arrived in the mail today, thank you oh so much for sharing, Jamie!! I have heard so many things about this book, it's always mentioned among the best vampire books ever!
---

Journal Entry
8
by

jare

from
Port Richey
,
Florida
USA on Thursday, August 24, 2006
This book was well worth the wait. And one of those rare occasions where all the hype was totally right! This is for sure one of the best books I've read, vampire or otherwise. Full of tension, emotion, and enough fright to keep you on the edge of your seat. This was my first Matheson read, and I can guarantee I'll be reading a lot more of his work soon! And now that I've finally read it, I can watch the movies, The Last Man On Earth starring Vincent Price and Omega Man starring Charlton Heston (and the upcomming remake with Will Smith.)

This is now going into my partner's nightstand, he thinks he wants to read it... when he is done, I will wild release it.
---
---

CONTROLLED RELEASE NOTES:

Cruiseaddict doesn't see himself getting around to this anytime in the near (or far) future, so I gave this to my mom today.

---
Great book! I didn't actually find it, Jare gave it to me to read. But this tracks its history much better.
now I shall return it or set it free if Jare doesn't want it back !! Fun read.. frustrating too. !!
---
---