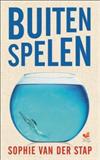 Buiten spelen
1 journaler for this copy...
Iedereen wordt geboren in een vissenkom, een plek van waaruit je de wereld observeert. En de wereld jou.
In Buiten spelen onderzoekt Sophie van der Stap of die ene vissenkom de enige is of je uit kunt breken, op weg naar een kom die beter bij je past. Via verschillende vissenkommen, gechaperonneerd door even zo veel Fransmannen, gaat Sophie op zoek naar de hare. Buiten spelen is een spirituele zoektocht naar de grenzen en vrijheden van onze eigen individualiteit.

In 2005 kreeg Sophie van der Stap (1983) te horen dat ze een zeldzame vorm van kanker had. Daarover schreef ze de internationale bestseller Meisje met negen pruiken (2006). Afgelopen voorjaar verscheen haar eerste roman: En wat als dit liefde is.
---