Im Eishaus,
2 journalers for this copy...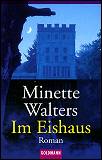 Orginaltitel: The Icehouse
Übersetzung: Mechtild Sandberg-Ciletti
Kurzbeschreibung
Handelt es sich bei der Leiche im Eishaus des englischen Landsitzes Streech Grange um die sterblichen Überreste des Hausherrn David Maybury? Seit zehn Jahren fehlt von ihm jede Spur, und für die Dorfbewohner gibt es nur eine Erklärung: Phoebe Maybury hat ihren Mann umgebracht. Daß sie sich seit damals mit zwei Freundinnen zu einer geheimnisvollen Lebensgemeinschaft auf dem Landsitz zurückgezogen hat, erhöht das Mißtrauen der Leute noch zusätzlich. Und auch Inspector Walsh ist überzeugt, Phoebe endlich den Mord von damals nachweisen zu können. Doch schon bald stellt sich heraus, daß der Fund der Leiche nicht genügt, um das dunkle Geheimnis von Streech Grange zu lüften.
Autorenportait
(von Amazon.de)
Minette Walters gilt als die britische "Queen of Crime" und hat eine Fangemeinde von Millionen Leserinnen und Leser. Viele ihrer bisher erschienenen Romane wurden mit wichtigen internationalen Preisen ausgezeichnet. Minette Walters lebt mit ihrem Mann und ihren beiden Söhnen in Hampshire, England.
Anmerkungen
Hineingelegt in die
Krimi-Box
von
alice13
---
danke für die reiche neuauffüllung der bookbox!
---