Immortal Bad Boys
Registered by
princess-peapod
of
San Luis Obispo
,
California
USA on 9/13/2011

This Book is Currently in the Wild!
2 journalers for this copy...


Hello Kind Reader,
Just a quick note that I've registered this book at BookCrossing.com, so that I can keep up on where it goes, who reads it, and what they thought of it. Please make a quick journal entry, then pass the book along to someone else who will appreciate it. We can all track this book's journey and the lives it touches forever more!
There are no strings attached and I don't get anything out of it...I just want to share the love of reading through the act of bookcrossing! If you do choose to join you can list me, princess-peapod, as the member who referred you.


bargain sale at Border's strikes again...a mere $1 for this book which is a collection of 3 short stories with a paranormal twist. This is one of those beach or vacation reads where it is not taxing to the brain, but a nice way to spend an hour or so....

"Second hand books are wild books, homeless books; they have come together in vast flocks of variegated feather, and have a charm which the domesticated volumes of the library lack." --Virginia Woolf

---

Journal Entry
2
by
princess-peapod
at
San Luis Obispo, California USA on Tuesday, September 13, 2011
If you found this book while in the area of San Luis Obispo, CA. feel free to come by and check out
Joe Mommas
which houses our bookshelf! We also hold our local meetups on the first Tuesday of each month at 5pm there, please come join the fun! The books on the shelf are free to for you to read, enjoy and pass along to another!
part of a box of fun books for one of my fave bookcrossing friends, enjoy the reads!
"A book is a mysterious object, I said, and once it floats out into the world, anything can happen. All kinds of mischief can be caused, and there's not a damned thing you can do about it. For better or worse, it's completely out of your control."
Paul Auster
---

Journal Entry
3
by
JennyC1230
at
Woodstock, Georgia USA on Sunday, September 25, 2011
Thank you so much for the books! This looks like a good one, I love paranormal romance! You're the best!
---

Journal Entry
4
by
JennyC1230
at
Woodstock, Georgia USA on Tuesday, November 11, 2014
Book Description: This book includes three paranormal romance stories.

Night Ecstasy by Rebecca York: New Orleans is a city pulsing with every forbidden pleasure three-hundred-year-old vampire Jules DeMario desires - including artist Taylor Lawson. And as their relationship becomes more intimate and erotic, more than Taylor's creativity finds stimulation...

Velvet Night by Rosemary Laurey: Police officer Vickie Anderson is in the Virginia mountains looking for solitude. What she finds is seductive Pete Falcon. The cop in her says stay away. But the woman in her can't resist his almost feral combination of sex and danger...

Midnight Court by Linda Thomas Sundstrom: A creature of the night, handsome Christopher Dante is as lustful as any man. At Lord Rothchilde's infamously debauched Midnight Court, he meets temptation: the innocent future bride of Lord Rothchilde himself. But in this Midnight Court, both Dante and his jealous former lover, Elizabeth, will have to risk their hearts in order to survive...

My Review: This was a fun read! I loved the first two stories by Rebecca York and Rosemary Laurey. The last story was a historical and it just didn't grab my attention. I love fun paranormal romances and these did the trick.

Sorry I had this one so long! It will be travelling again soon.
---

Journal Entry
5
by
JennyC1230
at
Woodstock, Georgia USA on Wednesday, December 10, 2014
---

Journal Entry
6
by
JennyC1230
at
Woodstock, Georgia USA on Friday, January 06, 2017
The Romance VBB ended a few years ago, so I'm making this book available.

---

Journal Entry
7
by
JennyC1230
at
Little Free Library - Bells Ferry Rd in Woodstock, Georgia USA on Friday, August 04, 2017
Released 3 yrs ago (8/4/2017 UTC) at Little Free Library - Bells Ferry Rd in Woodstock, Georgia USA
WILD RELEASE NOTES: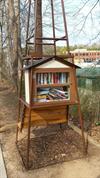 If you have found this book, welcome to Bookcrossing and thank you for taking the time to let us know about its journey. Feel free to enjoy the book and pass it along to a friend, neighbor, family member or co-worker, or simply leave it somewhere for another lucky reader to enjoy as you did! This book isn't your type of read? No problem, don't feel obliged to read it, just be kind enough to help it on its journey. If you join, please use my name as your referring member: JennyC1230.
Left in the Little Free Library on Noonday Creek Trail near downtown Woodstock. Enjoy!
---