There Goes Santa Claus (Ivy Towers Mystery #4) (Heartsong Presents Mysteries #33)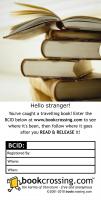 Registered by

booklady331
of
Cape Coral
,
Florida
USA on 9/12/2011

This Book is Currently in the Wild!
4 journalers for this copy...

Journal Entry
1
by

booklady331
from
Cape Coral
,
Florida
USA on Friday, September 30, 2011
If you are new to BookCrossing and found this book and this site, Welcome!

You have in your hands a free gift. This book is yours to do with as you wish...read it, share it, keep it, pass it on!
I've registered this at BookCrossing.com so that I can keep up on where it goes, who reads it, and what they thought of it. If you like the BookCrossing concept, you might want to register yourself with a screen name, so that you can keep up on this book, and maybe release others also! It's all confidential (you're known only by your screen name and no one is ever given your e-mail address), fascinating, and fun!

Thank you for picking up this book. I'd love to see an entry letting me know it is safe with you. Do with it as you please... read it (or not!), give it to a friend, keep it, leave it in the wild - it's up to you! Enjoy! If you like you can mention me, booklady331, as the one who referred you.



---

Journal Entry
2
by

booklady331
at
Cape Coral, Florida USA on Sunday, December 11, 2011
Enjoy! tag along book for Christmas and What's in A Name release challenges 2011

The meaning of the name Claus is Victory Of The People

The origin of the name Claus is German

Notes: Diminutive of Niklaus or Nicholas.

---
arrived today along with another Christmas book. Thank you!
---
A quick and easy read. An ok story.
---
Journal Entry
5
by

jmsmom

at
by mail, a fellow bookcrosser -- Controlled Releases on Wednesday, December 03, 2014
Released 4 yrs ago (12/3/2014 UTC) at by mail, a fellow bookcrosser -- Controlled Releases
CONTROLLED RELEASE NOTES:
on its way to southernfryed for the Christmas surprise bookring.
---

Journal Entry
6
by
Southernfryed

at
Lexington, South Carolina USA on Saturday, December 06, 2014
Book arrived today. I look forward to reading it. Love me some Christmas stories! Merry Christmas!

10/19/2015
I chose to read this book because it met the criteria for Plum-Crazy's What to Read for October theme-Creepy Crawlies (ANT is embedded in the title). At first, I had a hard time getting into the book because it is the 4th book in a series and I felt like I was missing a lot. However, I really enjoyed it, once it got to the meat of the story. I especially liked the christian values. The mystery was good and I didn't figure out who done it ahead of time. I will most likely save this book for a December release.
---

Journal Entry
7
by
Southernfryed

at
Lexington, South Carolina USA on Tuesday, December 01, 2015
dropped in the mail
---

Thank you, Southernfryed, for this book, one of three included in my US Secret Santa package. I love mysteries and look forward to reading this one.
---

I read this back in early December and intended to release it as part of the Christmas challenge, but we all know how life gets in the way!

This is the 4th (and currently last) in the Ivy Towers Mystery series. I hadn't read the first three, but found this enjoyable on its own (though I would like to know more about Ivy's character). I'll keep an eye out for the earlier installments.

Late one night, a man in a Santa suit falls off the roof of the house Ivy shares with her husband, Amos. Santa is dead when he is found in the snow-covered yard. But what was he doing on their roof in the first place? They have no children and it's not quite Christmas Eve yet anyway. And was it the fall that killed him?

This was a quick read that kept me turning the pages. There were many sympathetic characters and I enjoyed the descriptions of small-town life. So many cozies take place in small towns and I just love reading about people sharing meals, meeting for coffee, etc. There's something so soothing about it. Hard to explain!

There is a distinct Christian thread in the book – the author's website describes her work as "faith-filled" – but I don't think it would be too intrusive for non-believers.

Thanks again for sharing this, Southernfryed!
----------------
I will offer this in Ollie1976's VBB.
Unclaimed in Ollie1976's VBB which has now finished.

Offering in bookstogive's Mystery/Thriller/Suspense VBB (Round 19)

---

Not requested from the VBB, so it's now available.
---

Journal Entry
11
by
eponine38

at
Little Free Library, 67 Ashland St. in Malden, Massachusetts USA on Thursday, February 14, 2019
Released 8 mos ago (2/14/2019 UTC) at Little Free Library, 67 Ashland St. in Malden, Massachusetts USA
WILD RELEASE NOTES:
Hope it finds a new reader!
Released for
2019 Keep Them Moving Challenge
hosted by booklady331.
Welcome to BookCrossing!
Please make a journal entry so we know this book has found a new home.You don't need to join BookCrossing and you can remain completely anonymous. However, we encourage you to join so that you can follow this book's future travels. (You'll receive an email anytime someone makes a journal entry). It's fun, free, and confidential. If you decide to join, consider listing eponine38 as referring you.
Take your time reading the book, and after you finish, please make another journal entry to record your thoughts about it. This book is now yours, and you can keep it if you choose, though we would love for you to share it. If you pass it along, please make a release note to let others know where you left it "in the wild", or a journal entry if you gave/sent it to a known person.
I hope you enjoy the book!
---