Mapmakers Dream Meditations of Fra Mauro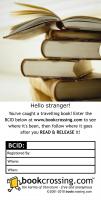 Registered by

booklady331
of
Cape Coral
,
Florida
USA on 9/12/2011
2 journalers for this copy...

Journal Entry
1
by

booklady331
from
Cape Coral
,
Florida
USA on Friday, September 30, 2011
If you are new to BookCrossing and found this book and this site, Welcome!

You have in your hands a free gift. This book is yours to do with as you wish...read it, share it, keep it, pass it on!
I've registered this at BookCrossing.com so that I can keep up on where it goes, who reads it, and what they thought of it. If you like the BookCrossing concept, you might want to register yourself with a screen name, so that you can keep up on this book, and maybe release others also! It's all confidential (you're known only by your screen name and no one is ever given your e-mail address), fascinating, and fun!

Thank you for picking up this book. I'd love to see an entry letting me know it is safe with you. Do with it as you please... read it (or not!), give it to a friend, keep it, leave it in the wild - it's up to you! Enjoy! If you like you can mention me, booklady331, as the one who referred you.



---

Journal Entry
2
by

booklady331
at
Cape Coral, Florida USA on Thursday, December 06, 2012
Interesting facts woved into a novel. This is about someone I never heard of before. Hope to find this book a new home.
---

Journal Entry
3
by

booklady331
at
Cape Coral, Florida USA on Tuesday, December 11, 2012
Enjoy! RABCK to JDT for What's in a Name (Rea), D is for December and RABCK release challenges 2012. Trust this book is what you are expecting.
---

Thanks so much for your generous RABCK, booklady331!
I especially like the cover art and the setting in Venice.
Wishing you a wonderful Christmas season - and a good year ahead!

---

an unusual and thought-provoking story, that I really enjoyed reading.

Set in 16th century Venice, a monk without leaving his monastery, sets out to map the world. He is open to all info, impressions, and stories from visitors around the world.

What I really liked - and seemed of timeless value - was Fra Mauro's open-mindedness, love of learning, fascination with life, knowledge, and belief. As much as he wanted to produce an authentic map of the world, he was open to changing his views given new information and open to transforming himself. We could use more of this attitude today!
---

released in person to BC friend caligula03 at our local meetup this evening.
Enjoy!
---