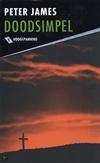 Doodsimpel
Registered by
Mayti
of
't Harde
,
Gelderland
Netherlands on 8/12/2011
This book is in a Controlled Release!
2 journalers for this copy...

Een macabere grap loopt gruwelijk uit de hand... Michael Harrison gaat bijna trouwen. Zijn vrienden besluiten hem eens flink te grazen te nemen en verzinnen een sinistere grap. Op zijn vrijgezellenavond voeren ze hem dronken, waarna ze hem achterlaten in een doodskist met een fles whisky en een walkietalkie. Maar wanneer de vrienden wegrijden om hem een paar uur flink te laten zweten, krijgen ze een fataal ongeluk... Niemand weet waar Michael is, ook Michael zelf niet, die langzaam ontwaakt uit zijn roes... Met nog maar drie dagen te gaan voor de bruiloft, wordt inspecteur Roy Grace ingeschakeld door de bloedmooie en zeer bezorgde verloofde, Ashley Harper. Met maar bar weinig aanknopingspunten moet Grace aan de slag. Zelfs Mark Warren, Michaels beste vriend en zakenpartner, en bij uitstek degene die zou moeten weten waar Michael uithangt, kan hem niet verder helpen. Gaandeweg komt Grace erachter dat meerdere mensen baat zouden kunnen hebben bij de verdwijning van Michael - meer dan iedereen zich realiseert. Want de een zijn dood is de ander zijn brood... Doodsimpel...

Peter James is een van de best verkopende thrillerauteurs van Engeland. Hij is ook filmproducent en scenarioschrijver, en meerdere van zijn boeken, waaronder Doodsimpel, worden verfilmd. Dit is het eerste boek in een serie met inspecteur Roy Grace in de hoofdrol.
---

Mee naar de jaarlijkse bijeenkomst bij strandpaviljoen Zoomers in Castricum aan zee.
Hallo vinder!
Gefeliciteerd, je hebt dit boek gevangen! Ik hoop dat je ervan zult genieten. Wil je, als je het uit hebt, hier vertellen wat je ervan vond? Daarna zou het leuk zijn als je het verder laat reizen. Je kan het aan een kennis geven om te lezen of zomaar in het wild ergens achterlaten zodat iemand anders het kan vinden, bijvoorbeeld in een restaurant, school, buiten, of ergens anders waarvan jij denkt dat er mensen komen die dit boek zouden willen lezen.
Mocht je besluiten lid te worden van Bookcrossing, dan zou ik het leuk vinden wanneer je mij, Mayti, als referral op zou willen geven.
Veel leesplezier!
---
Meegenomen van de meeting. Kon een goede thriller niet laten liggen :)
---
In de hal van een seniorenflat in Amsterdam Noord.

Veel leesplezier!
---