---
Please know that every purchase you make in our Supply Store helps to keep BookCrossing free, and your generosity directly supports our cause to make the world a library!
---
---
BOOKPLATE OF THE MONTH
More than a twinkle in someone's eye, this gorgeous bookplate sparkles for January.
The eye is gleaming with insight, foresight and hindsight as we reflect on last year and look forward to an eye-opening 2012. Let's face it: The ayes have it!

This month, our winner is...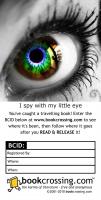 "
I spy with my little eye
"
created by
busybooklover
(These labels are available for purchase in the Supply Store with a pre-numbered option.)
---
Heather's Wonderin'...
(Note: December's answers to "Heather's Wonderin'..." were too witty to replace simply to be timely in providing post-holiday relevant content; therefore, we hope you'll indulge us, and enjoy a bit of humor from Christmas past.)
"If Santa knew who was good and bad, why don't they use him in courts?"
"
Did you ever try serving a subpoena to someone who lives at a secret workshop in the North Pole? The process servers alone cost a fortune (and that's assuming they can find the place
!)"
-FURBALL
"
There are no chimneys.
"
-Covert
"
Santa has no proof! We only have his word; it would be hearsay testimony.
"
-AwesomeAud
"
The lawyers are afraid that he really
does
know who's naughty and who's nice and just might call them out in the courtroom!
"
-ResQgeek

"The rest of the year he works for the National Elf Service, so he's not available!
"
-Fellraven
"
He gets so tired delivering all those presents that he simply doesn't respond to any mail during the rest of the year. So no one has been able to get hold of him to ask.
"
-Moem
"
Santa's job is to know if
children
(not adults) are good or bad. Maybe, if he knows something in this case, he knows it only about the recent year. So what is with statute-barred prosecution?
"
-
Holiday-Snack
---
Look for Heather's posts in the Chit-Chat Forum. Each month, she'll pose a question and we'll publish our favorite answers.
---
EUROPEAN SUPPLY STORE UPDATE
We know you've been (im)patiently waiting for the European distribution of Supply Store items and we sincerely apologize for the delay. We're still working on the details as the plan we had hoped to have in place by now ran into unforeseen difficulties. As we've had to start from scratch, we can assure you that a EU store (or at least decent EU delivery options) is forthcoming, however, we honestly don't know yet when we will have achieved this. Thanks for your understanding.
---
SECRET BOOK SCULPTURES
We've been beguiled by these fabulous series of book sculptures and this Banksy-type of artistry. Releasing a book in secret can be difficult enough, but try secretly slipping one of these out of your bookbag. Here's the ultimate example of 'read and release' taken to an entire new level: reading, sculpting and releasing.
We hope you enjoy
these spectacular miniatures
(and don't miss the
"
Update
"
link on top of that page!) as much as we do, and should you be so inspired, make your own and set it free (and be sure to send us pictures!)
---
GOODBYE JOSEKI
January 2, 2012 marked the passing of well-known BookCrosser and frequent Chit-Chat Forum contributor, Matthew (aka
Joseki
). With over 25,000 forum posts, Matthew was known for his jokes which were imparted with warm and kind intentions. He made us smile. His onsite presence was a pleasure, and this special BookCrosser contributed his vitality, intelligence and good cheer to many of us. We will certainly mourn his passing and send our condolences to his wife Betsy and the rest of his family.
Matthew, we remember you fondly.
Rest in peace.
---
Have an idea for the Newsletter?



Other members are intrigued and enlightened by articles from fellow members. Are you a member who loves to write as much as read? Email heather@bookcrossing.com with feature ideas, thoughts or suggestions or send us an article we can add to the newsletter. Write on!
here.
---
MEMBER ARTICLES
Books Can Grow on Trees
by abbigailann
How one author utilized BookCrossing to send her book around the world.
by LauraHarrington
---
LAST LAUGH
Little Johnny asked and received help from a librarian on how to use the card catalog. In a little while, he approached the librarian again, wanting to know how to spell "tequila".
"T-e-q-u-i-l-a," spelled the librarian, and Little Johnny thanked her and went
back to his search.
A short time later he came to the desk, looking quite distraught. "I just can't find it," he said.
"What book are you looking for?" the librarian asked.
Replied Little Johnny, "Tequila Mockingbird."
---