March 19, 2010
[This monthly newsletter is sent to members of BookCrossing.com. See the
bottom
of this newsletter for simple removal instructions.]
---
Bruce asked us to give a quick run-down on how the website rebuild is going. Without giving away all the good stuff, we can definitely say there are some pretty cool things happening. The speed of the new site is amazing. Absolutely amazing. There's a FAST and improved search, with one search box to rule them all. Throw whatever you want at it: BCID, titles, author names. It can take it. It's built tough. And did we mention it's fast?

Basic navigation around the website is also easier, with a clean design and interface. Sure, we're techies, but we're betting that the improved usability and overall speed will blow you away.

One big difference is that there will be a lot less text to wade through. But content will be complete-- usable and understandable. We want to help newbies interact with the site and not get overwhelmed with a flood of words. Those of you who are familiar with other 2.0 sites recognize this approach.

Be advised that the new website conforms to browsers designed in this century. (You'd be surprised how many members are working with ancient equipment.) The basic functions of BookCrossing 2.0 will work with older browsers, but the rendering may not be pretty. To help these folks out, an alternate plain text version of the site will be available. Navigating this version of the site may not be as smooth as you would like, but you'll still be able to get where you want to go. Honestly, though, newer browsers have features that will make the site much easier to use.

A reminder to be sure to back up your profile information soon, if you haven't already done so. It's not in our plans to lose personal data, but some of you have really complex stuff stored on your profile. Those html links could easily break during the transfer and your data would be lost. So back it up and be safe. Your bookshelf will be safe; it's the profile that could go rogue.

Finally, to wrap up this sneak preview, you should know that this new architecture makes is really easy to add new features to the site. And yes, after the initial launch, lots more features are coming.

So, for now, we'll crawl back into our dark programming cave and resume work. It's a great project to be working on, and we're really looking forward to letting the test users soon take a crack at the new website.

Matt Brass
BookCrossing Sr. Software Engineer


---
BookCrossing and Your Language Depend on YOU!

Launch of the new BookCrossing 2.0 website approaches. It promises many new and exciting features, but perhaps the most eagerly anticipated change will be the ability to view BookCrossing in languages other than English. Call it localization, internationalization or even I18n, it all comes down to you being able to read www.bookcrossing.com in your language of choice. To make this happen, we need your help. Some professional translators will be used, but it often takes a member of the community to understand BookCrossing jargon and how the site operates. That's where you come in.
If you love BookCrossing, have some time to translate English text into your language, and want to help get wording and meaning just right, please consider lending your language skills to the site. Email laura@bookcrossing.com with the following:
Name
Screen name
Primary Language
Credentials
Time Commitment
Willingness to work with deadlines (quick turnaround time within 4-5 days of assignment)
Language-based teams of up to 3 people will be formed before the end of March, so send in your volunteer information as soon as possible! Please believe that this is a very worthy project. Once it's completed, you'll take well-deserved pride in having been part of its creation, and the international membership will be indebted to all of you. So please sign up — BookCrossing and your language need you!
---
Tee for You and You for Tee: How to Wear Your Bookish Passions

For many years the BookCrossing Supply Store has offered all sorts of apparel to outfit BookCrossers. As mentioned in the February 2010 Newsletter, the Supply Store is getting "back to basics", and will be concentrating exclusively on Release Supplies. All items in the store not related to registering and releasing books are on final clearance. As the saying goes, "once they're gone, they're gone." But never fear! We've lined up some stellar options to allow you to satisfy the bookaholic or keen-minded reader in you, and keep you stylish, too.
If you're seeking a classic look — classic books, that is — be sure to check out our BookCrossing Partner Out of Print. Their fabulous (and comfy) shirts feature fantastic covers from bygone days. Some are classic covers, some are lesser known titles with great cover art. These shirts are something special. A portion of every sale goes to BookCrossing, and each shirt comes with a garment hangtag that can be used as a bookplate to label your next wild release.
If you're looking for something that says "BookCrossing" on it, click on over to our outposts on Spreadshirt and on CafePress. Along with The BookCrossing Supply Store and our official and wonderful UK Distributor for the store, gingergeoff, these are the only places you can buy BookCrossing products where your purchases will directly help keep BookCrossing operating.
Last, but in no way least, are the shirts from our friends at mentalfloss.com and mental_floss magazine. They've got some great designs. We'll let them tell you about it here.
---
Announcing 31st Limited Edition Bookplate: Wintertime Reading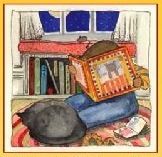 Just in time for the vernal equinox, here comes the release of BookCrossing's 31st Limited Edition Bookplate. It's called Wintertime Reading, but it will warm hearts, regardless of the season. Artist Marygrace Antkowski used watercolors to capture perfectly the thrill of seeing a young child totally absorbed in a book curled up on a rug safe and sound inside, with a favorite pet at thier feet. Marygrace based the painting on the memory of a reading nook at the preschool her children attended. She said, "It was a place where many children have sat on the floor and looked at picture books and have been read to by their teachers... a warm nurturing atmosphere." Let your books carry this welcoming image as you send them into the world to become BookCrossing books. This bookplate will make new readers feel right at home when they pick up their caught book to enjoy. Available only at the BookCrossing Supply Store.
---
BallyColor Stickers Available at the Supply Store

Color your world Ballyful with the new BallyColor Sticker Set, available exclusively at the BookCrossing Supply Store. Each set contains 5 sheets of 20 different designs, for a total of 100 stickers (5 of each design). Individual stickers are 1"x2" inches (50x25 mm) and are perfect for books, envelopes or wherever you want to leave a little BookCrossing whimsy. And don't forget, there are plenty of other stickers, release supplies and other goodies at the store. All purchases help support the site. Thanks for shopping.
---
Classroom Corner Winner: How Books Saved My Sanity

A key tenet of BookCrossing philosophy is that books change lives. Buffheart's essay How Books Saved My Sanity is a prime example. Be sure to read her touching and honest story, the most recent winner in our Classroom Corner contest. If you are interested in submitting your own essay, click here for complete guidelines and information. Classroom Corner submissions should relate to BookCrossing, reading, or the book/publishing industry. Tell us your story; submit your winning entry today.
If you're not in the classroom, but still have been bitten by the writing bug, we encourage you to submit an article for review through the usual channels. Don't forget, we give Members Plus for all articles which are accepted for publication.
---
Second BAFTA Nomination for The Lost Book

Online animated whodunit and BookCrossing Partner The Lost Book has received a nomination in the Interactive category for the BAFTA Scotland New Talent Awards 2010. This is the second BAFTA Scotland nomination for the project, which narrowly missed out on a prize in 2009. The awards, held in Glasgow this year on 19 March, highlight and promote some of the most innovative and exciting new talent in film-making in Scotland.
The nomination isn't just for the project team at Binary Fable in Edinburgh; it's also for everyone who contributed to the story. Many BookCrossers took part, suggesting plot ideas, naming characters, and even inventing a secret society of bibliophiles. 241 books were released during release challenges for The Lost Book and over 1000 other books were set free by the project, thanks to sponsors Canongate and the Edinburgh UNESCO City of Literature Trust's 2009 reading campaign.
You can still join in through bookrays. There's a wide range of books on offer, including bestsellers by our guest writer Jasper Fforde, signed novels by China Mieville and Linda Gillard, and a selection of titles from Canongate — see TheLostBook's profile for the full list.
Pictured is The Lost Book character Otto Dafé (named by BookCrosser anaonthenet in one of the many Lost Book contests) reading 1001 Books to Read Before You Die..
---
I MADE OUR QUEEN CROSS A BOOK!
The Queen of the Netherlands passed a book of mine
by Aaltsje
On the Dutch forum we play the monopoly game.* As our team was on the spot "Kings and Queens" I thought it a good idea to send our Queen a book. The book was Koninginnedag (Queensday). Unfortunately, this release was not approved by the game host because it was not a wild release. For the game it was a bad idea, but the book was ready to send out, so rather than let it go to waste, I put it in the mail anyway....
[read it all at http://www.bookcrossing.com/articles/3314]
---
JUST ONE TEEN'S DREAM
Just One Teen Trying To Bring The Community Together Through A Shared Passion
by Xena Pulliam (z3CarGaragez)
If you gave a survey to a group of teenagers on books or reading it's very likely that most if not all of them would tell you that they are not interested or that they don't like to read. To me, a 15 year old who loves reading with a passion, this is preposterous. I just can't see how someone wouldn't love the joy reading gives and the escape that you can find. To me reading is a gift, something to be treasured and I wish that more teenagers saw the value of reading. Too much time is spent on computers playing games, chatting, watching TV, and in general not doing very much, valuable time that could be spent reading a good book. ...
[read it all at http://www.bookcrossing.com/articles/3317]
---
TEACHPEACENOW.ORG PUTS GREAT BOOKS IN TEACHERS' HANDS
Nonprofit group uses BookCrossing as a way to distribute great children's books to teachers everywhere
by Joan Koster and Tim Wolcott (teachpeacenow)
What teacher would turn down a free book? TeachPeaceNow.org, a non-commercial website, designed by educators for educators, has started an initiative to distribute great children's literature to teachers. In order to do this, TeachPeaceNow.org has chosen to utilize bookcrossing.com as a way to get great books into teachers' hands....
[read it all at http://www.bookcrossing.com/articles/3323]
---
THE GREAT ROAD TRIP
Two Go Mad In The Countryside
by Gill Rose (Katisha50)
It all began with LyzzyBee wanting to release 38 books to mark her 38th birthday. Or was it that katisha50 (me) had signed up to the 52 Towns in 52 Weeks release challenge, and wanted to get a head start?...
[read it all at http://www.bookcrossing.com/articles/3324]
---
BOOKCROSSING THE BIBLIOLOGY WAY
BookCrossing explodes onto Golden Lane Estate, as part of Bibliology exhibition
by abigailann
The call went out to Golden Lane Estate, London -- bring in your books and discover the world of BookCrossing! They came from not only London, but further away (including some journalists from Hong Kong). Most of them had no idea what they were letting themselves in for!...
[read it all at http://www.bookcrossing.com/articles/3325]
---
HOW BOOKS SAVED MY SANITY
Classroom Corner Winner March 2010
by buffheart (BCNewsletter)
Books have always held a special place in my heart, perhaps more so than most bibliophiles. They have always had the remarkable ability to calm me when I am angry to upset. I love to pick books off of my shelf and just clutch them to my chest with one hand whilst stroking them with the other, much like one would do to coax a baby to sleep. Most of the time I don't even need to hold one to calm down; just sitting in the quiet next to my bookshelves does the trick. When I am around books I simply feel peaceful, almost as though the books are emitting some kind of invisible relaxing aura....
[read it all at http://www.bookcrossing.com/articles/3326]
---
BIBLIOLOGY AND BOOKCROSSING AT GOLDEN LANE ESTATE

by photokf
The first BookCrossing event at EXHIBIT Gallery, 20 Goswell Road, Golden Lane Estate, London EC1, took place on 6th March 2010. (www.exhibit-goldenlane.com)...
[read it all at http://www.bookcrossing.com/articles/3327]
---
AND NOW A WORD FROM MENTAL FLOSS
Where Knowledge Junkies Get Their Fix
by mental_floss magazine (Ballycumber)
The good people at BookCrossing have given us 250 words to tell you about our t-shirts. We could go the hard-sell route, but you see the shirts. If you want one, or want to see more, you'll head over to mentalfloss.com. ...
[read it all at http://www.bookcrossing.com/articles/3328]
---
CALL FOR WRITERS

Want to write for BookCrossing? If your article is accepted, you could see it featured here in the next newsletter. What topics do we need? Anything about books, reading, or BookCrossing — tutorials, release and catch stories, well-traveled book stories, funny BookCrossing experience stories — you get the idea. Write it up, then submit it here:

http://www.bookcrossing.com/articles/submit




---
Top 10 Countries All-Time
| | |
| --- | --- |
| USA | 324,470 (38%) |
| UNITED KINGDOM | 90,661 (11%) |
| GERMANY | 58,010 (7%) |
| CANADA | 48,164 (6%) |
| SPAIN | 39,658 (5%) |
| AUSTRALIA | 35,586 (4%) |
| ITALY | 25,147 (3%) |
| NETHERLANDS | 17,930 (2%) |
| FRANCE | 17,546 (2%) |
| PORTUGAL | 11,922 (1%) |
---
Wild books released by our members are being caught all over the world, every day! Our site watch forum is where members post news of great wild book catches. Here are some of the best from the last few days...

"it absolutely made my day to find a free book on a park bench"
http://bookcrossing.com/---/7824523
by ResQgeek
From a 600 year old Scottish Castle to the oil industry in Canada
In spring 2006 I visited 8 castles in the Scottish Borders in the course of one weekend and made 8 wild releases -one in each castle/abbey. I've just received a journal entry for one of these releases, bringing the total to 6 out of 8, so far. http://www.bookcrossing.com/---/
by swan-scot
excellent journal
http://www.bookcrossing.com/---/7667906
by karen07814
I had just released this wonderful book and saw it on sidebar...
and it was just caught and I saw it on the sidebar just as it was caught and journaled. I was afraid to wild release this as I thought it would not be appreciated...but luckily someone caught it who heard of it- - and they also joined!
Oops, forgot this:
http://www.bookcrossing.com/---/4375508
by classicfox
"wonderful" that BC exists
http://www.bookcrossing.com/---/1371849
by newk
The Hardy Brothers are in Mumbai
http://www.bookcrossing.com/---/7495618
by varykino
Tooting my own horn about a rapid catch.
http://www.bookcrossing.com/---/7663011
Someone who joined BC in 2006 but hasn't been active found it while geocaching. What a great start to a Monday morning!
by Megi53
"...kinda freaked out.... a book told me to do this..." - amusing 5-yr catch for...
...readinggoddess:
http://bookcrossing.com/---/2404892
by GoryDetails
This book is a real traveller
http://www.bookcrossing.com/---/6948201
I like the journals.
by Stromend-Water
A Catch, Heartwarming JE And New Member
http://bookcrossing.com/---/7783284
germs... who would have thought LOL
by Makita21
This AF seems *very* excited!
http://www.bookcrossing.com/---/7535361
by klaradyn
Great Catch for Keeta1
http://www.bookcrossing.com/---/7337730
Travelled from New Zealand to the Lourve Museum in Paris!
by AlterEgoZoe
---
All of our newsletters, including this one, are archived on the web at http://www.bookcrossing.com/newsletterarchive.
---
This newsletter is sent only to members of BookCrossing.com. If you would prefer to not receive this newsletter in the future, you can change your newsletter preference anytime by visiting: http://www.bookcrossing.com/newsletterpref/.